AMD EPYC 7000 – high-end server processors leaked specs – 32 cores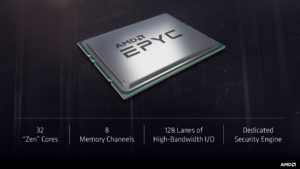 2017 is definitely AMD's year – the company released a new processor architecture for the first time in six years. Ryzen CPUs became an instant success that even resulted in a price drop of Intel's counterparts. The consumer-grade processors brought AMD back to the game. Then there is also the Threadripper.
And now it seems that AMD is pushing forward to enterprise levels with the newly announced EPYC 7000 series of server-grade processors. Videocardz leaked some specs. EPYC 7000 processors will feature 128 PCIe lanes and they will support 8-channel DDR4 memory up to 2666 MHz.
The most powerful of the series feature 32 cores and 64 threads. The expected prices range from $400 to $4000.
As you can see in the chart below, the performance of the EPYC 700 chips is on average more than 0.5 times more than their Intel counterparts. However, Intel is working on new Xeon processors that might withstand the attack of AMD.
Meanwhile, you can check all available AMD products over here: http://amzn.to/2jzfLfq