Gigabyte reveals new gaming keyboard – Force K85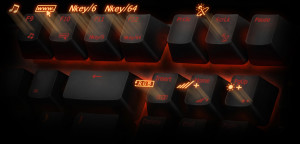 Major hardware manufacturer Gigabyte has announced a new keyboard, part of the Force series – the Force K85. Of course, the company doesn't draw the line only with motherboards, the Taiwanese are releasing some gaming peripherals as well. Today we will take a look at one really simple, yet stylish accessory – the Force K85 gaming keyboard.
As we said, at first glance Force K85 looks very simplistic, just like its predecessor. The keys are not recessed into the body, so you can easily clean the keyboard from dust, crumbs or even liquid – that's great to know. Another great feature is the "Win-Lock key" allowing you to disable the Windows key, which you may accidentally press while gaming. That will lead you back to Start menu – you definitely don't want that to happen in the middle of a massive online fight.
The biggest difference between Force K85 and K83 is the multi-color (16.8 million) LED illumination under the keys. The good news is that you can switch the lights to whatever color you want along with brightness level and style. The anti-ghosting system will let you press as many buttons as you can and mechanical switches will boost comfort accuracy and durability while the rubberized feet will give you stability on every surface. You can find more information on Gigabyte's official website:
http://www.gigabyte.com/products/product-page.aspx?pid=5790&dl=#kf
If you're looking for a gaming keyboard, you can check out Amazon.com:
http://amzn.to/1S02xVa