Intel Xeon Platinum 8176 dual socket configuration benchmarks – 56 cores / 112 threads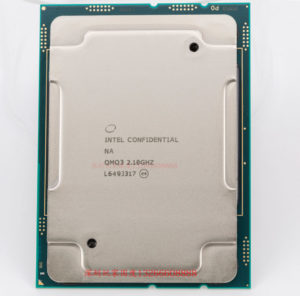 Benchmarks for the new flagship of enterprise-level processors from Intel – the Xeon Platinum 8176 are here. this upcoming beast feature 28 cores and 56 threads. Each core is clocked at 2.1 GHz and it can go up to 3.8 GHz but if Turbo Boost clock is enabled on all cores the frequency is 2.8 GHz.
And if 28 hyper-threaded cores are not enough, the Xeon Platinum 8176 supports dual socket configurations which can leave you with a total of 56 cores and 112 threads. Bet your device will run smoothly. Jokes aside, companies that operate with large amounts of data need that extreme processing power.
Benchmarks for the dual socket configuration of the Xeon Platinum 8176 arrived. This super processor score 6525 points in Cinebench R15. This score leaves the dual socket configuration of the Xeon E5-2696 v4 which scored 5444 points is the dust.
Meanwhile, you can check all Intel processors over here: http://amzn.to/2raMD2i