SanDisk announces SkyHawk and SkyHawk Ultra enterprise SSDs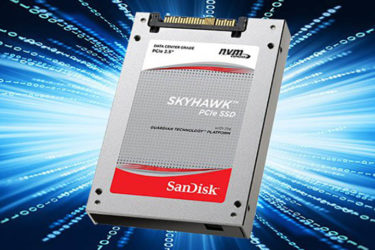 Today SanDisk the American company known for manufacturing high-quality flash memories announced two new series of enterprise SSDs – the SkyHawk and SkyHawk Ultra series. They are built around the 2.5-inch form factor and are only 12 mm thick. They feature PCI-Express 3.0 x4 interface over U.2 or SATA-Express connections and incorporate 15 nm MLC NAND flash memory.
The lower class SkyHawk drives come in 1920GB and 3840GB variants. Their read speed is up to 1500 MB/s while their write speed is up to 1700 MB/s. They also feature up to 250 000 IOPS random reads and 47 000 random writes. The MTBF (mean time between failures) is rated as 2 million hours which is backed by a five-year warranty.
The more premium SkyHawk Ultra SSDs come in a lower capacity 1600GB and 3200GB variants with higher read speeds (up to 1700 MB/s) but lower write speeds (up to 1200 MB/s). Again they feature 250 000 IOPS random reads but this time the random writes are nearly double – 83 000. They are also nearly three times more durable than the SkyHawk series – 1.7 vs 0.6 DWPD (drive writes per day).
Meanwhile, you can check all available SanDisk products here: http://amzn.to/2k2jUZo