Intel Core i5-1035G7 vs i7-10710U – computational performance or a balanced CPU and iGPU combo?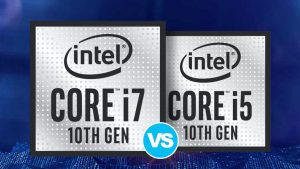 The Core i5-1035G7 is a snappy processor and its close to the i7-10510U performance but the Iris Plus G7 iGPU inside of the Ice Lake CPU is much faster than the Intel UHD graphics that the Comet Lake one has. The top dog of the Comet Lake lineup is the i7-10710U. This CPU is no joke in terms of performance – ok, it's not a 10nm processor like the i5-1035G7 but it has more cores than it and it uses a bit refined 14nm tech process.
We've chosen those two processors because of their prices – there is a big cost gap between them and we have to find is it worth it to choose one over the other and why. As you may already know from our previous CPU comparisons, the Ice Lake processors are fast and efficient chips with great iGPUs but this time it'll be an intense battle because the i7-10710U has a lot of tricks up in its sleeve.

Quick Specs
First of all – prices. Intel is asking $320.00 for i5-1035G7 and $443.00 for i7-10710U (38% price difference). The Comet Lake CPU is a lot more inexpensive but let's see what is the actual performance of those contenders.
The i5-1035G7 has 4 cores and 8 threads while the i7-10710U has 6 cores and 12 threads. On top of that, the Ice Lake processor has lower base and boost frequencies (1.20 GHz – 3.70 GHz to 1.10 GHz – 4.70 GHz) and smaller cache size (6 MB vs 12 MB) than its Comet Lake rival. The 10nm CPU has an advantage thanks to its higher max memory supported frequencies – DDR4-3200, LPDDR4-3733 vs DDR4-2666, LPDDR3-2133 for the Comet Lake contender. The TDP levels of both CPUs are almost the same.
Detailed specs: Core i5-1035G7 / Intel Core i7-10710U
This is our specs table:
| | Intel Core i5-1035G7 | Intel Core i7-10710U |
| --- | --- | --- |
| Cores / Threads | 4 / 8 | 6 / 12 |
| Base / Max frequency | 1.20 – 3.70 GHz | 1.10 – 4.70 GHz |
| Cache | 6 MB Intel Smart Cache | 12 MB Intel Smart Cache |
| TDP / up / down | 15W / 25W / 12W | 15W / 25W / 12.5W |
| Memory support | DDR4-3200, LPDDR4-3733 | DDR4-2666, LPDDR3-2133 |
CPU Benchmarks
Not bad, the Comet Lake processor has a 58% higher score when it comes to 3D rendering.
Results are from the Cinebench 20 CPU test (the higher the score, the better)
Results are from our Photoshop benchmark test (the lower the score, the better)
GPU Benchmarks
Expectedly, the Intel Iris Plus G7 is over two times faster than Intel UHD Graphics.
Intel Iris Plus G7
Intel UHD Graphics
3DMark Firestrike
2757

(+118%)

1266
Verdict
Both CPUs are good and the choice depends on your needs. If you need a fast processor for photo and video editing, compression, decompression, etc, the i7-10710U is the logical choice. It has a 38% higher price tag but in our benchmarks, its raw CPU result is 58% higher than i5-1035G7 and that sounds like a fair deal. No matter the load, the Comet Lake processor is clearly faster than its Ice Lake competitor. If you need faster iGPU for games, then you have to choose a configuration with dedicated graphics like NVIDIA GTX / RTX.
The i7-10710U isn't that efficient like the Ice Lake chip and if you don't care much about battery life and you just need fast CPU combined with powerful dedicated GPU maybe the Coffee Lake i7-9750H is a good choice too because it has more power than the Comet Lake top chip, it's cheaper, and it has a higher TDP and that's why it can maintain higher frequencies without much throttling.
The i5-1035G7 is a good overall package. It has enough computing performance – it'll do every task like the i7-10710U but a bit slower. Its biggest advantages are the lower power consumption, lower heat dissipation, and of course, the superb iGPU. The latter is over two times faster than UHD graphics and if you want to play casual and light games like DOTA 2 with decent FPS without having a dedicated GPU in the laptop, the i5-1035G7 seems like the right choice in this case. Most of the time, the devices configured with it are much slimmer than the Comet Lake and Coffee Lake-based devices.
Let's summarize it – if you need nothing more than pure computational performance, the i7-10710U is the winner here. If you want a good CPU / iGPU combo in a thin device combined with good battery life – Core i5-1035G7 will do the job.

All laptops with Intel Core i5-1035G7:
All laptops with Core i7-10710U: