ASUS VivoBook F571
Intel Core i5-9300H
NVIDIA GeForce GTX 1650 (Laptop)
15.6", Full HD (1920 x 1080), IPS
500GB SSD
16GB DDR4
2.14 kg (4.7 lbs)
Pros
ErgoLift hinge and subjectively cool exterior
Backlit keyboard
Features an SD card
Adequate price
Lacks PWM for brightness adjustment (LG LP156WFC-SPD1 (LGD0563))
Cons
Budget build quality
Weird power management with BIOS version 302
Covers only 53% of sRGB (LG LP156WFC-SPD1 (LGD0563))
Only one RAM DIMM and maximum support of 16GB of memory
Most of the USB ports are 2.0
Gets a little warm on the outside
Technische Daten
Intel Core i5-10300H

1.0%

Intel Core i5-1135G7

1.2%

Intel Core i5-9300H

Intel Core i7-8705G

2.1%

AMD Ryzen 7 3750H

2.1%
NVIDIA Quadro P620 (4GB GDDR5)

11.8%

Intel Iris Xe Graphics G7 (96EU)

8.6%

NVIDIA GeForce GTX 1650 (Laptop)

AMD Radeon RX Vega 8 (R4000/5000, 15W)

8.0%

NVIDIA GeForce MX330 (4GB GDDR5, 25W)

13.8%

AMD Radeon RX Vega 7 (R4000,5000 35/45W)

13.8%
LG LP156WFC-SPD1 (LGD0563)
Abmessungen
359 x 248 x 21.9 mm (14.13" x 9.76" x 0.86")
Gewicht
2.14 kg (4.7 lbs)
1x USB Type-C
3.2 Gen 1 (5 Gbps)
1x USB Type-A
3.2 Gen 1 (5 Gbps)
Sicherheitsschloss Schlitz
Geschenke
Office 2019 Pro
Mehr ASUS VivoBook F571 Konfigurationen - 39 Laptops
#CommissionsEarned
Anzeige: 15.6-inch, 1920x1080, IPS
Name
LG LP156WFC-SPD1 (LGD0563)
PWM-Frequenz

No PWM (Flicker-Free)
Wird zu "Retina" von
24 inches (62 cm)
PWM-Bewertung

10.0: (safe)
Kaufen Sie unsere Profile für LG LP156WFC-SPD1 (LGD0563)
Mit dem Kauf von LaptopMedia-Produkten erhalten Sie nicht nur effiziente und gesundheitsschonende Profile, sondern Sie unterstützen auch die Entwicklung unserer Labore, in denen wir Geräte testen, um möglichst objektive Testberichte zu erstellen.
ASUS VivoBook F571 gründliche Überprüfung
Let's start by clarifying the name of this guy. In the US it is known as the VivoBook K571. However, around the world, you can find it by the X571 and N571 moniker. Yep, similarly to the Netherlands, which is known as Holland, ASUS was not very decisive, so we are going to use the VivoBook K571 from now on. Other than that, the laptop belongs to the budget gaming notebook market. What else is there? The Lenovo Ideapad L340 Gaming 15, HP Pavilion Gaming 15 (2019), Dell G3 3590 and more. Similarly to them, the VivoBook K571 features a brand new design - both inside and out. It can be purchased with either a TN or an IPS panel with a Full HD resolution. In terms of hardware - ASUS offers the notebook with either the Core i5-9300H or the Core i7-9750H, while GPU-wise you can pick from the [...]
Lesen Sie die vollständige Rezension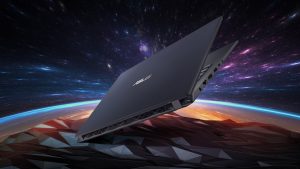 Demontage, Wartung und Aufrüstmöglichkeiten
This device's key purpose is to give people that don't want to spend their last money on a laptop, some light in the tunnel. It has great specs and is capable of a great performance. Check out all ASUS VivoBook K571 (X571) prices and configurations in our Specs System or read more in our In-Depth review. 1. Remove the bottom plate Should you need to remove the bottom panel of the device, you will be met with a rather interesting type of "innovation". You are going to see only four screws, holding the entire bottom plate to the chassis. Don't let ASUS fool you, though - there are t[...]
Mehr lesen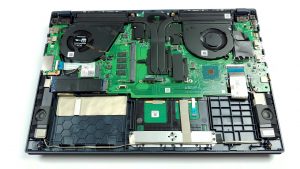 CPU-Leistung: Intel Core i5-9300H
Die Ergebnisse stammen aus dem Cinebench 20 CPU-Test (je höher die Punktzahl, desto besser)
GPU-Leistung: NVIDIA GeForce GTX 1650 (Laptop)
Die Ergebnisse sind für den 3DMark: Fire Strike (Grafik) Benchmark (je höher die Punktzahl, desto besser)
Einige Spiele, die Sie auf diesem Laptop spielen können
Zeigen Sie mir die besten Laptops für...