MSI Katana GF66
Intel Core i5-11400H
NVIDIA GeForce GTX 1650 (Laptop)
15.6", Full HD (1920 x 1080), 144 Hz, IPS
512GB SSD
8GB DDR4, 3200 MHz
2.25 kg (5 lbs)
Pros
Competitively priced
Two SODIMM slots, and up to two M.2 PCIe x4 slot
Rigid structure
Lacks PWM (AUO B156HAN08.4 (AUOAF90))
144Hz refresh rate (AUO B156HAN08.4 (AUOAF90))
Cons
53% sRGB coverage (AUO B156HAN08.4 (AUOAF90))
Slow pixel response times and low maximum brightness (AUO B156HAN08.4 (AUOAF90))
No SD card reader and Thunderbolt 4
Runs hot
Unimpressive battery life
Technische Daten
AMD Ryzen 7 5700U

0.7%

Intel Core i5-1240P

2.6%

Intel Core i5-11400H

AMD Ryzen 5 4600H

0.8%

AMD Ryzen 5 5625U

3.4%

Intel Core i5-1245U

3.5%
NVIDIA Quadro P620 (4GB GDDR5)

11.8%

Intel Iris Xe Graphics G7 (96EU)

8.6%

NVIDIA GeForce GTX 1650 (Laptop)

AMD Radeon RX Vega 8 (R4000/5000, 15W)

8.0%

NVIDIA GeForce MX330 (4GB GDDR5, 25W)

13.8%

AMD Radeon RX Vega 7 (R4000,5000 35/45W)

13.8%
AUO B156HAN08.4 (AUOAF90)
M.2 Slot
up to 2x M.2 PCIe x4
Gehäuse Material
Plastic / Polycarbonate
Abmessungen
359 x 259 x 24.9 mm (14.13" x 10.20" x 0.98")
2x USB Type-A
3.2 Gen 1 (5 Gbps)
1x USB Type-C
3.2 Gen 1 (5 Gbps)
Ethernet LAN
10, 100, 1000 Mbit/s
Audio jack
3.5mm Combo Jack
Hintergrundbeleuchtete Tastatur
Lautsprecher
Stereo Speakers by Nahimic Audio
Es gibt 2 MSI Laptops mit den gleichen Spezifikationen (sorted by price)
#CommissionsEarned
Mehr MSI Katana GF66 Konfigurationen - 17 Laptops
#CommissionsEarned
Anzeige: 15.6-inch, 1920x1080, IPS
Name
AUO B156HAN08.4 (AUOAF90)
PWM-Frequenz

No PWM (Flicker-Free)
Wird zu "Retina" von
24 inches (62 cm)
PWM-Bewertung

10.0: (safe)
Kaufen Sie unsere Profile für AUO B156HAN08.4 (AUOAF90)
Mit dem Kauf von LaptopMedia-Produkten erhalten Sie nicht nur effiziente und gesundheitsschonende Profile, sondern Sie unterstützen auch die Entwicklung unserer Labore, in denen wir Geräte testen, um möglichst objektive Testberichte zu erstellen.
MSI Katana GF66 gründliche Überprüfung
MSI's GF series has traditionally been the manufacturer's entry-level gaming devices. Naturally, this makes it a hot property as not everybody is willing to spend a whole fortune on a laptop. However, the GF notebooks were notorious for their cooling problems, and we really hope that this year's redesign will address these issues. In addition to the mild redesign, we are happy to see that MSI has spared no effort in introducing the latest additions from Intel and NVIDIA. This includes the Tiger Lake H45 processors and the Ampere graphics cards. It is particularly interesting to see how the entry-level RTX 3050 is going to perform now that NVIDIA has given their lowest-tier GPU the ray-tracing treatment. Thankfully, you get some customization options via the MSI Center. There, you ca[...]
Lesen Sie die vollständige Rezension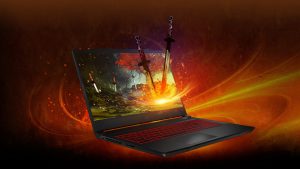 CPU-Leistung: Intel Core i5-11400H
Results are from the Cinebench 20 CPU test (the higher the score, the better)
GPU-Leistung: NVIDIA GeForce GTX 1650 (Laptop)
Die Ergebnisse sind für den 3DMark: Fire Strike (Grafik) Benchmark (je höher die Punktzahl, desto besser)
Einige Spiele, die Sie auf diesem Laptop spielen können
Zeigen Sie mir die besten Laptops für...