Second debut of the ASUS G752VS laptop with GTX 1070, this time in Russia (but the price is much higher)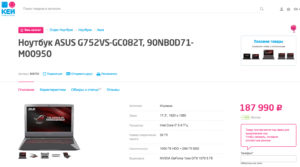 Did ASUS decide that $2299 / 2060 EUR is a low price for a laptop with the new NVIDIA GeForce GTX 1070 and raise it up to $2899 / 2599 EUR or that's just for the unlucky Russians? We can't answer that but we must say that a month after our first discovery of G752VS (detailed specs) on the EU market at the price of 2060 EUR, thanks to our partners at Browswave, leading market analysis service, we stumbled upon another offer and this time it wasn't that tempting.
ASUS G752's configuration with Intel Core i7-6700HK, Full HD screen, GTX 1070, 32GBs of RAM and 1TB HDD + 256GB SSD will cost 2599 EUR, and based on the specific version, it could go up to 3249 EUR / $3625 (with 4K screen, 64GB RAM and 1TB HDD + 512GB SSD).
If you'd like to see configurations and prices of the latest available gaming notebooks, check this link: http://amzn.to/2b5SzoA
Don't forget to come back on 16th August, when we'll release a bunch of GTX 1070 articles, tests, benchmarks, and comparisons. And we have A LOT of new surprises for you!
Are you looking for a laptop with a GTX 1xxx Pascal GPU and what do you think about the price? You can share your opinion in the comments below.
Source: Browswave