Acer Nitro 5 (AN515-57) Test – dieses Modell hat sich verbessert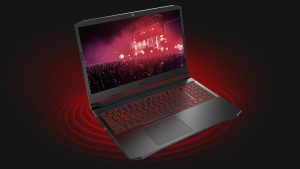 Die Beliebtheit der Nitro-Serie von Acer ist unbestreitbar. Der Hauptgrund dafür ist die Tatsache, dass diese Geräte ordentliche Hardware mit einem vernünftigen Preis kombinieren. Das Acer Nitro 5 (AN515-57) ist ein typischer Vertreter dessen, was man von einem neuen Nitro-Laptop erwarten kann – jedes Jahr erhalten die Laptops eine Auffrischungskur. Die Verbesserungen für die neuen Geräte finden erwartungsgemäß unter dem Gehäuse der Notebooks statt. Das Aussehen dieses speziellen Geräts scheint (fast) unverändert im Vergleich zu dem, was wir letztes Jahr gesehen haben.
Kurz gesagt, die aufgefrischten AN515-57-Geräte können mit Intel Tiger Lake 45H und NVIDIA Ampere-GPUs konfiguriert werden – das klingt modern genug, egal ob man es für Spiele, Office, eine Produktivitätsaufgabe oder etwas anderes verwenden möchte. Wie immer sind die Basiskonfigurationen ein wenig schüchtern, wenn es um die Leistung geht, aber die bestmögliche Konfiguration klingt faszinierend für ein Nitro 5-Gehäuse (und vielleicht ist sie auch eine Herausforderung für die Kühlung) – ein Intel Core i7-11800H und eine GeForce RTX 3070 (100 W). Wir denken, dass dies das erste Mal ist, dass ein Nitro-Gerät eine so leistungsstarke Grafiklösung beherbergen kann.
Für Leute, die nicht so viel Leistung benötigen, gibt es eine Menge weniger leistungsfähiger und geldbeutelschonender Setups. In der Vergangenheit litten einige Nitro-Laptops unter hohen CPU- und GPU-Temperaturen bei starker Belastung, aber jetzt hat sich das geändert. Die ineffizienten und heißen Intel Coffee Lake- und Comet Lake-H-CPUs sind endgültig verschwunden und die aufgefrischten Laptops mit den Intel Tiger Lake-H-CPUs erwärmen sich dank der neueren CPU-Chips nicht so stark wie die Geräte der vorherigen Generation. Schauen wir also mal, wie leistungsfähig die Neuen sind.
Die Preise und Konfigurationen können Sie in unserem Specs System überprüfen: https://laptopmedia.com/series/acer-nitro-5-an515-56/
Contents
Datenblatt
Was ist in der Schachtel?
Der Karton des Laptops enthält nur die üblichen grundlegenden Dinge – einige Handbücher, eine Diskette mit Treibern, ein Acer Nitro 5 Gerät und ein 180W Ladegerät.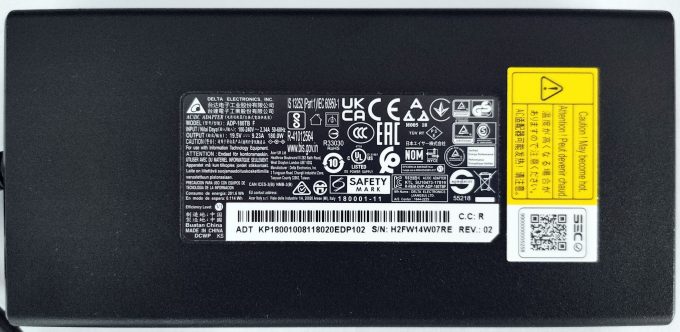 Design und Konstruktion
Das Nitro 5 sieht typisch aus, und wenn man von einigen leichten optischen Unterschieden absieht, ist es (fast) identisch mit dem 2020er-Modell. Wie üblich ist das Notebook komplett aus Kunststoff gefertigt, was sich angesichts der Preiskategorie ziemlich normal anfühlt. Die gute Nachricht ist, dass sich das Gerät robust anfühlt – ja, es gibt überall Plastik, aber das ist eine der solidesten Kunststoffkonstruktionen, die wir bisher getestet haben. Was die Abmessungen angeht, so hat das neue Gerät genau das gleiche Profil wie die 2020er-Iteration – 23,9 mm, während das Gewicht mit 2,20 kg etwas geringer ist (2,30 kg beim alten Modell).
Der Deckel ist nicht ganz flach und das liegt vor allem daran, dass das Notebook mit den beiden markanten Details auf beiden Seiten des Deckels versucht, wie ein Sportwagen auszusehen. Man kann ihn mit einer Hand öffnen (mit einem leichten Wackeln, nachdem man ihn losgelassen hat) und man wird sehen, dass die beiden seitlichen Einfassungen normal groß sind, aber leider können wir das Gleiche nicht für die obere und das dicke "Kinn" sagen. Die Web-Kamera ist orthodox positioniert, also keine Überraschungen hier.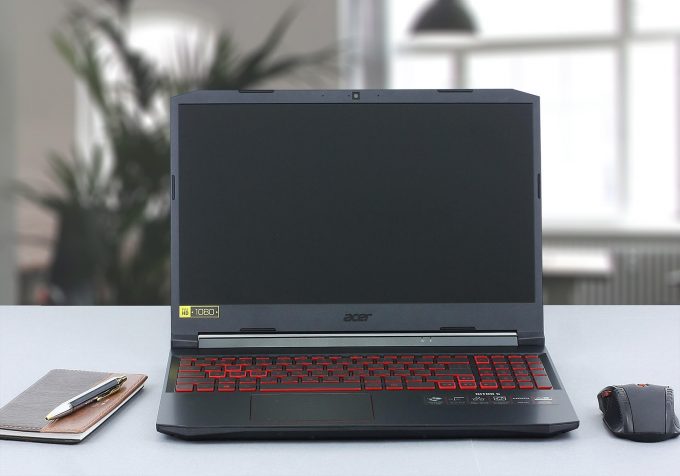 Eine der besten Eigenschaften dieses Laptops ist die Tastatur. Es handelt sich um eine schöne Einheit mit großen Tastenkappen, die sich sowohl zum Tippen als auch zum Spielen eignen. Darüber hinaus sind der lange Tastenhub und das klickende Feedback Teil des "Pakets". Sicher, es gibt keine ausgefallenen RGB-Optionen (dieses Modell leuchtet nur in roter Farbe und das ist auch eine Option) und keine Anpassungsmöglichkeiten pro Taste, aber die Tastatur des Acer Nitro 5 (AN515-57) ist ein großartiges Gerät in der Budget-Kategorie. Außerdem gibt es einen hervorgehobenen WASD-Bereich, einen Nummernblock und große Pfeiltasten, aber leider ist nicht genug Platz um sie herum.
Hartes Tippen ist kein Problem, wir beobachten eine leichte Biegung im Bereich zwischen der "Space"-Taste und dem Touchpad.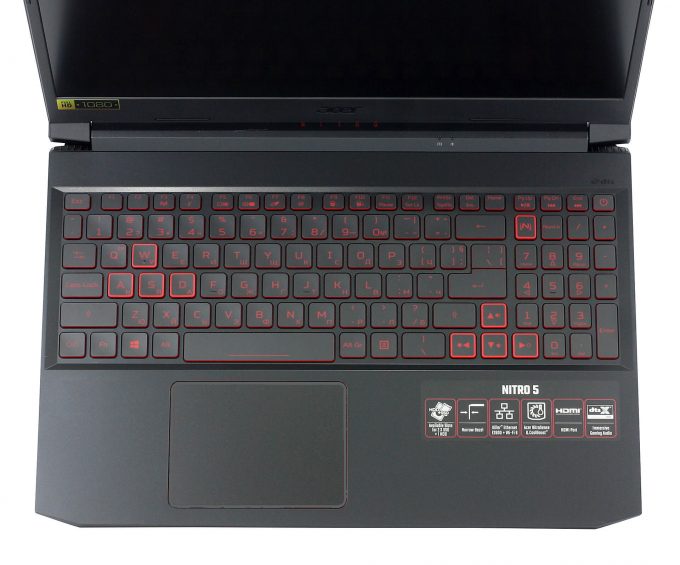 Über das Touchpad gibt es nicht viel zu sagen – es bietet eine große Gleitfläche und man kann seine Finger leicht gleiten lassen, aber es ist nicht das genaueste.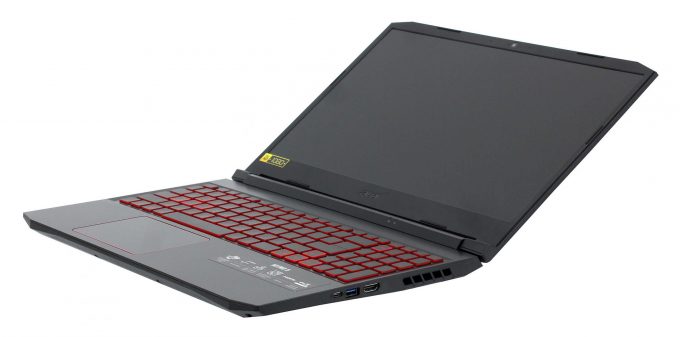 Die Bodenplatte hat ein bekanntes Design, das mit dem des 2020er Geräts identisch ist, sich aber aufgrund der anderen Platzierung der Lüfter deutlich von den 2019er Geräten unterscheidet. Es gibt genügend Platz für die Lüfter, um Luft anzusaugen, und die heiße Luft wird durch vier Öffnungen abgeleitet.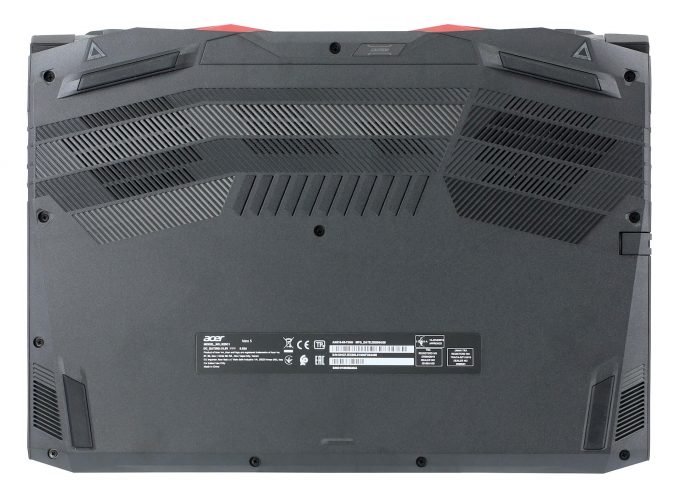 Ports
Was die Anschlüsse betrifft, so befinden sich auf der linken Seite ein RJ-45-Anschluss, zwei USB Typ-A 3.1 (Gen. 1) Anschlüsse und eine Audiobuchse. Auf der rechten Seite befinden sich ein HDMI-Anschluss, ein weiterer USB Typ-A 3.1 (Gen. 1) Anschluss und ein USB Typ-C 3.2 (Gen. 2) Anschluss mit Thunderbolt 4 Unterstützung (mit Lade- und DisplayPort-Funktionen). Der Stromanschluss befindet sich jedoch an der Rückseite des Laptops, was für das Kabelmanagement hilfreich ist. Apropos, die HDMI-Positionierung ist nicht optimal, wenn man einen externen Monitor und eine Maus gleichzeitig nutzen möchte.
Demontage, Aufrüstmöglichkeiten und Wartung
Der Ausbau der Bodenplatte ist gar nicht so schwer – nach dem Lösen der 11 Kreuzschlitzschrauben können Sie die Platte mit einem Plastikwerkzeug aufhebeln. Am einfachsten ist es, die beiden nach hinten gerichteten Gitter zu sich heranzuschieben.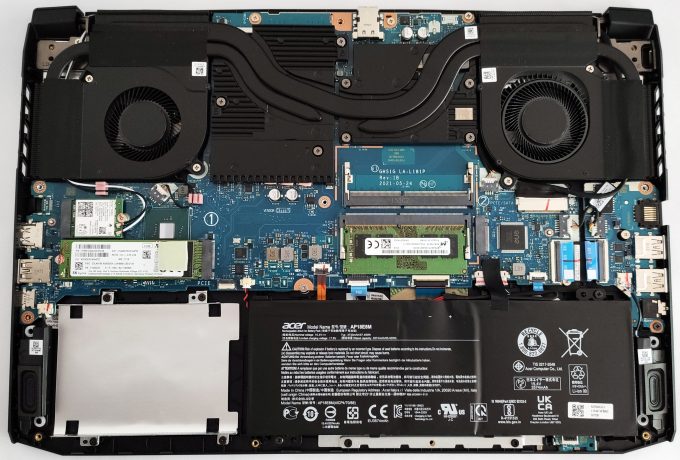 Die Kühllösung sieht fast genauso aus wie die, die wir im Predator Triton 300 (PT315-52) gefunden haben. Das bedeutet, dass es drei Heatpipes hat – eine davon wird von der CPU und der GPU geteilt und die anderen beiden sind ausschließlich für diese Chips bestimmt. Die Kühllösung wird durch vier Kühlkörper und zwei große Kühlplatten ergänzt, die den Videospeicher und die Spannungsregler abdecken.

Was die Speicherunterstützung angeht, können die beiden SODIMMs bis zu 32 GB DDR4 3200 MHz RAM verarbeiten, was eine kleine Verbesserung darstellt (das 2020er Gerät unterstützt 2933 MHz RAM). Die Speicheroptionen sind großartig für eine preiswerte Gaming-Maschine wie diese. Es gibt zwei M.2-Steckplätze (mit RAID 0-Option) – der erste kann PCIe-Laufwerke verarbeiten, der zweite unterstützt PCIe- und SATA-Laufwerke. Wir sind noch nicht fertig – es gibt einen regulären SATA-Anschluss, was sehr schön ist – Sie können ein großes 5TB 2,5″-Laufwerk für Ihre große Sammlung von Spielen, Filmen oder was auch immer Sie wollen einbauen.
Die Batterie ist eine 57,48-Wh-Einheit.

Display-Qualität
Acer Nitro 5 (AN515-57) ist mit einem Full HD IPS-Panel mit der Modellnummer Innolux N156HRA-EA1 (CMN1521) ausgestattet. Seine Diagonale beträgt 15,6″ (39,62 cm), und die Auflösung beträgt 1920 х 1080 Pixel. Das Verhältnis des Bildschirms ist 16:9, die Pixeldichte beträgt – 142 ppi und der Abstand 0,18 х 0,18 mm. Der Bildschirm wird zum Retina-Bildschirm, wenn er aus einer Entfernung von 60 cm oder mehr betrachtet wird (ab dieser Entfernung kann das Auge die einzelnen Pixel nicht mehr unterscheiden, und das ist normal für die Betrachtung eines Laptops).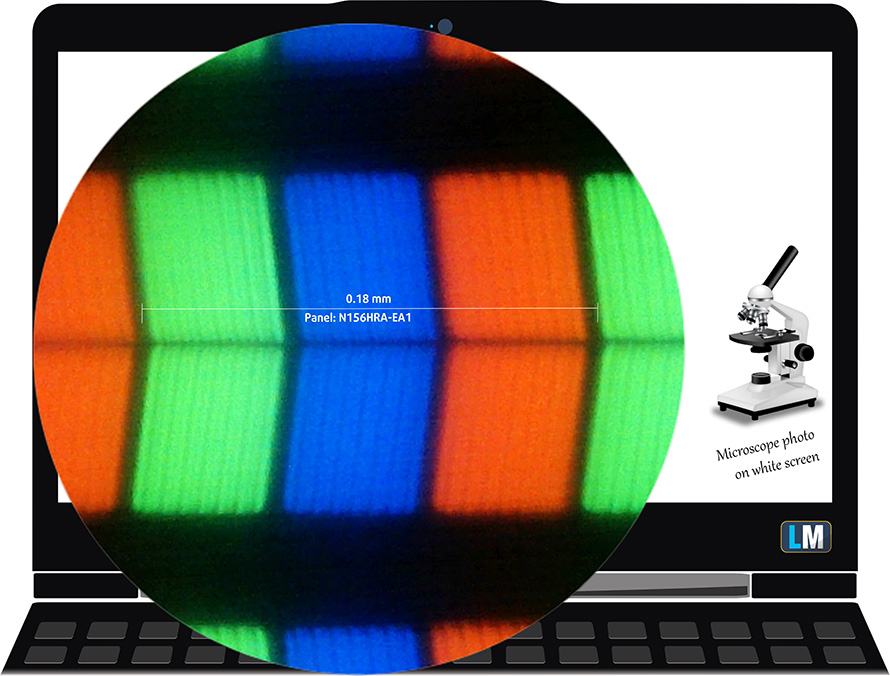 Die Betrachtungswinkel sind bequem. Wir bieten Bilder mit 45° an, um die Bildqualität zu beurteilen.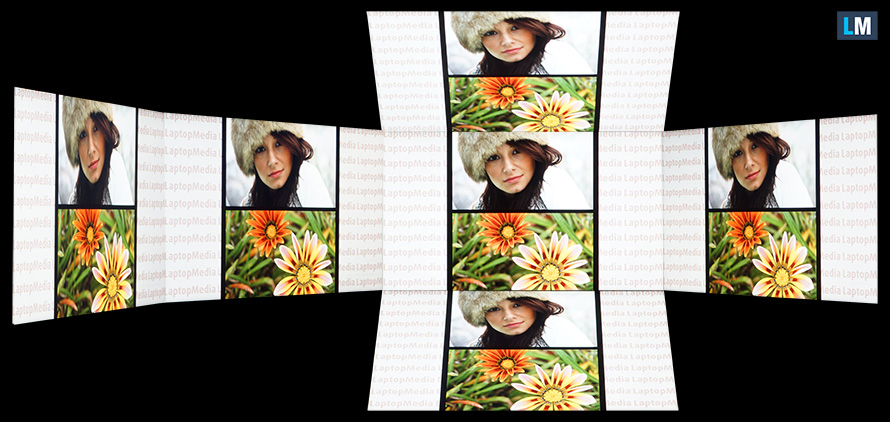 Die gemessene maximale Helligkeit von 306 nits in der Mitte des Bildschirms und 278 nits als Durchschnitt für den gesamten Bereich, mit einer maximalen Abweichung von 14%. Die korrelierte Farbtemperatur auf einem weißen Bildschirm beträgt 6930 K – etwas kälter als der optimale Wert für den sRGB-Standard von 6500 K.
In der Abbildung unten können Sie sehen, wie das Display unter dem Gesichtspunkt der Gleichmäßigkeit abschneidet. Mit anderen Worten, der Lichtaustritt aus der Lichtquelle.
Werte von dE2000 über 4,0 sollten nicht vorkommen, und dieser Parameter ist einer der ersten, den Sie überprüfen sollten, wenn Sie beabsichtigen, das Notebook für farbempfindliche Arbeiten zu verwenden. Das Kontrastverhältnis ist mehr als anständig – 1480:1.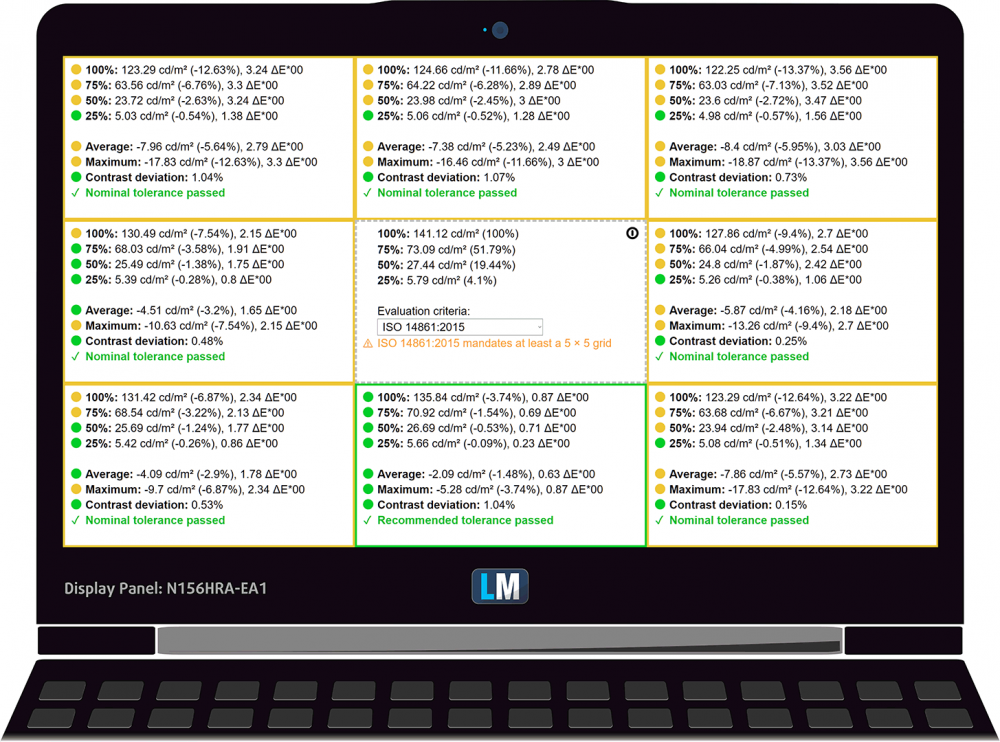 Um sicherzustellen, dass wir auf derselben Seite stehen, möchten wir Ihnen eine kleine Einführung in den sRGB-Farbraum und Adobe RGB geben. Zunächst einmal gibt es das CIE 1976 Uniform Chromaticity Diagram, das das für das menschliche Auge sichtbare Farbspektrum darstellt und Ihnen eine bessere Vorstellung von der Abdeckung des Farbraums und der Farbgenauigkeit gibt.
Innerhalb des schwarzen Dreiecks sehen Sie die Standardfarbskala (sRGB), die von Millionen von Menschen bei HDTV und im Internet verwendet wird. Der Adobe RGB-Farbraum wird in professionellen Kameras, Monitoren usw. für den Druck verwendet. Im Grunde genommen werden die Farben innerhalb des schwarzen Dreiecks von allen verwendet, und dies ist der wesentliche Teil der Farbqualität und Farbgenauigkeit eines Mainstream-Notebooks.
Wir haben jedoch auch andere Farbräume wie den berühmten DCI-P3-Standard, der von Filmstudios verwendet wird, sowie den digitalen UHD-Standard Rec.2020 berücksichtigt. Rec.2020 ist jedoch noch Zukunftsmusik, und es ist schwierig, dass heutige Displays diesen Standard gut abdecken. Wir haben auch den sogenannten Michael-Pointer-Farbraum oder Pointer-Farbraum einbezogen, der die Farben repräsentiert, die in der Natur jeden Tag um uns herum vorkommen.
Die gelbe gepunktete Linie zeigt die Farbraumabdeckung des ASUS TUF F15 (FX506, 2021).
Sein Display deckt nur 57 % des sRGB/ITU-R BT.709 (Web/HDTV-Standard) in CIE1976 ab.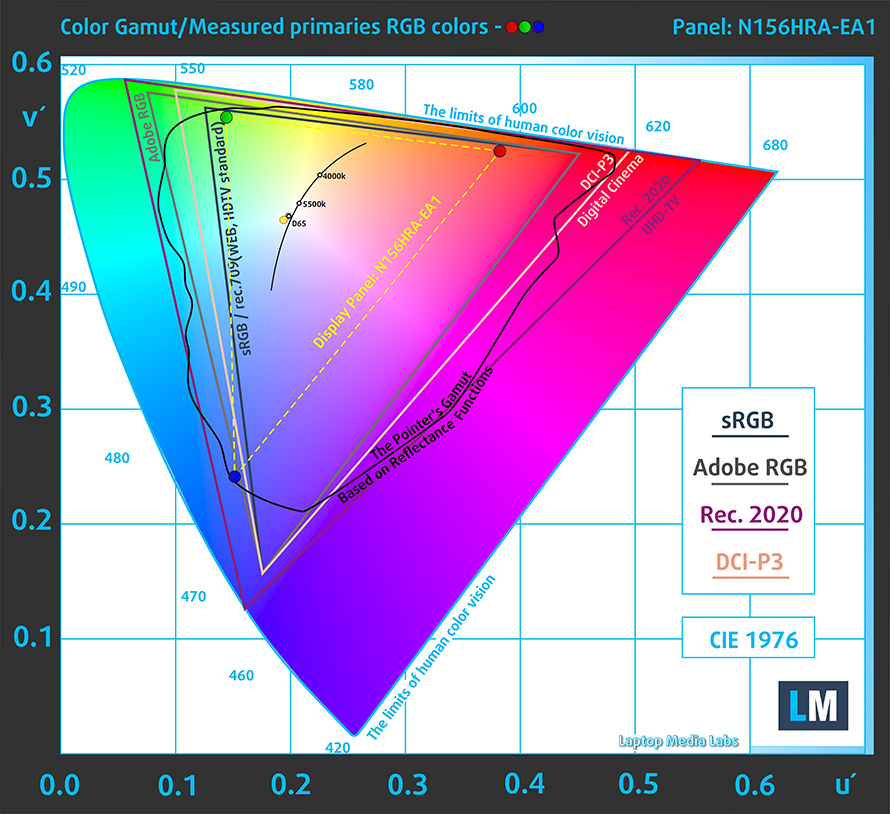 Unser Profil "Design und Gaming" liefert eine optimale Farbtemperatur (6500K) bei 140 cd/m2 Leuchtdichte und sRGB-Gamma-Modus.
Wir haben die Genauigkeit des Bildschirms mit 24 häufig verwendeten Farben wie helle und dunkle menschliche Haut, blauer Himmel, grünes Gras, Orange usw. getestet. Sie können die Ergebnisse im Werkszustand und mit dem Profil "Design und Gaming" überprüfen.
Unten können Sie die Ergebnisse des Acer Nitro 5 (AN515-57) mit den Standardeinstellungen (links) und mit dem Profil "Gaming and Web design" (rechts) vergleichen.
Die nächste Abbildung zeigt, wie gut das Display in der Lage ist, wirklich dunkle Teile eines Bildes wiederzugeben, was beim Ansehen von Filmen oder Spielen bei schwachem Umgebungslicht wichtig ist.
Die linke Seite des Bildes stellt das Display mit den Standardeinstellungen dar, während auf der rechten Seite das Profil "Gaming and Web Design" aktiviert ist. Auf der horizontalen Achse finden Sie die Graustufen und auf der vertikalen Achse die Leuchtdichte des Bildschirms. Anhand der beiden Diagramme unten können Sie leicht selbst überprüfen, wie Ihr Bildschirm mit den dunkelsten Nuancen umgeht, aber bedenken Sie, dass dies auch von den Einstellungen Ihres aktuellen Bildschirms, der Kalibrierung, dem Blickwinkel und den Umgebungslichtbedingungen abhängt.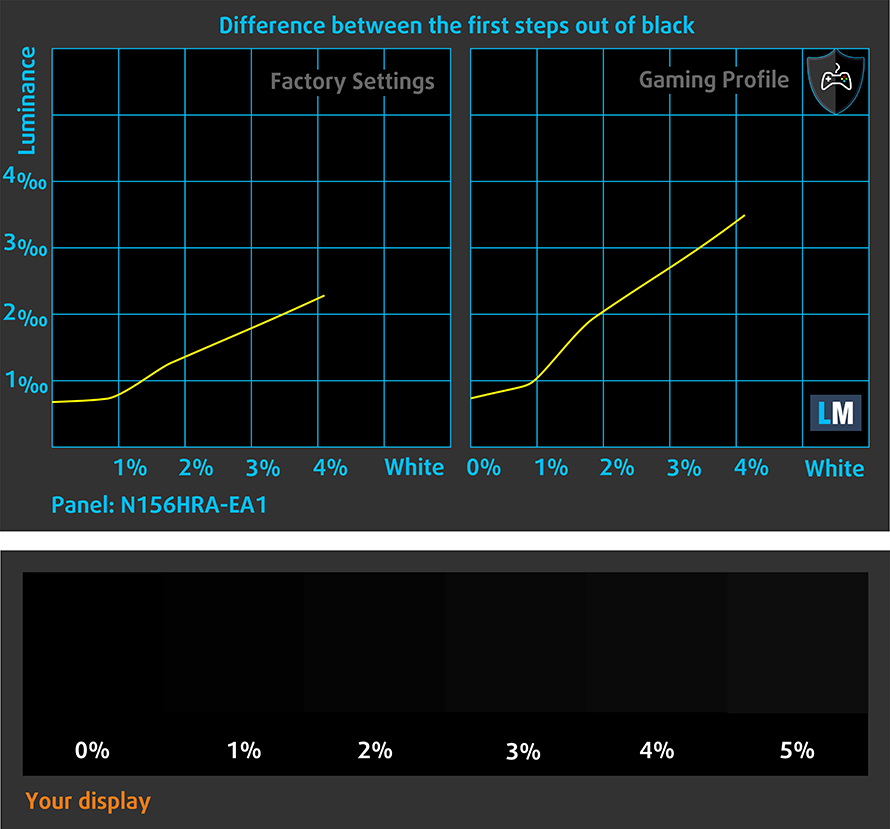 Reaktionszeit (Gaming-Fähigkeiten)
Wir testen die Reaktionszeit der Pixel mit der üblichen "Schwarz-zu-Weiß"- und "Weiß-zu-Schwarz"-Methode von 10 % auf 90 % und umgekehrt.
Wir haben Fall Time + Rise Time = 22 ms aufgezeichnet.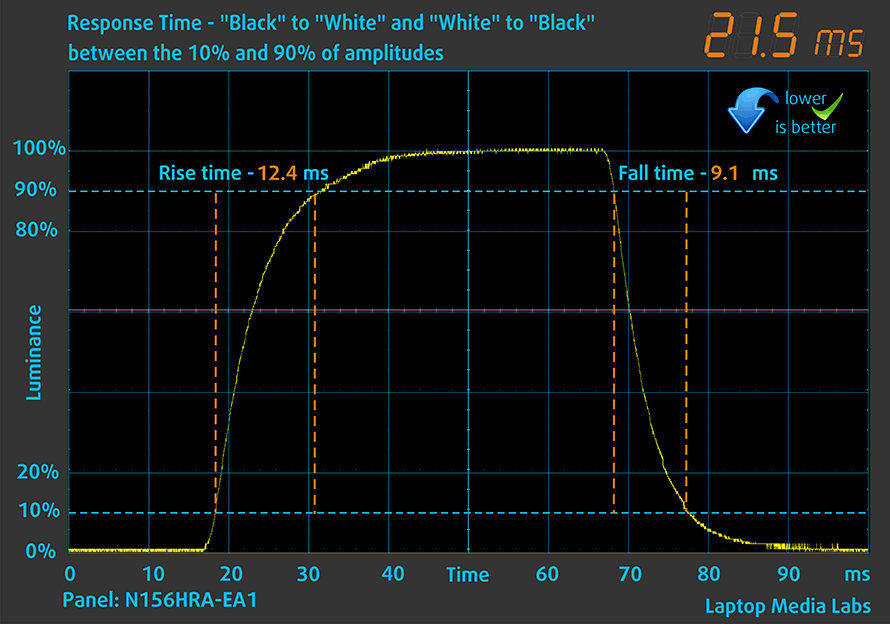 Danach testen wir die Reaktionszeit der Pixel mit der üblichen "Gray-to-Gray"-Methode von 50% Weiß auf 80% Weiß und umgekehrt zwischen 10% und 90% der Amplitude.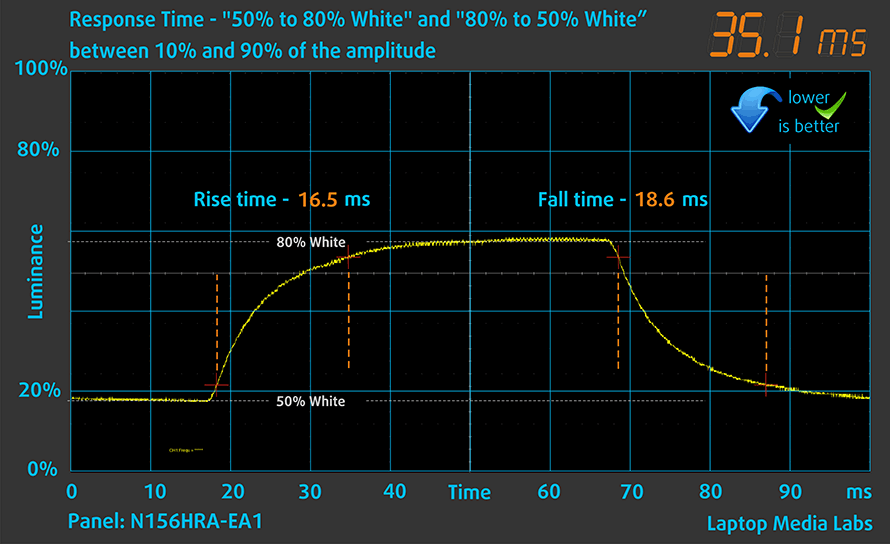 PWM (Bildschirmflimmern)
Die Pulsweitenmodulation (PWM) ist eine einfache Methode zur Steuerung der Bildschirmhelligkeit. Wenn Sie die Helligkeit verringern, wird die Lichtintensität der Hintergrundbeleuchtung nicht verringert, sondern von der Elektronik mit einer für das menschliche Auge nicht wahrnehmbaren Frequenz aus- und eingeschaltet. Bei diesen Lichtimpulsen ändert sich das Zeitverhältnis zwischen Licht und Nicht-Licht, während die Helligkeit unverändert bleibt, was für Ihre Augen schädlich ist. Mehr darüber können Sie in unserem Artikel über PWM lesen.
Das Display des Acer Nitro 5 (AN515-57) (CMN1521) ist PWM-frei, was definitiv gut für Ihre Gesundheit ist, egal wie lange Sie vor dem Laptop sitzen.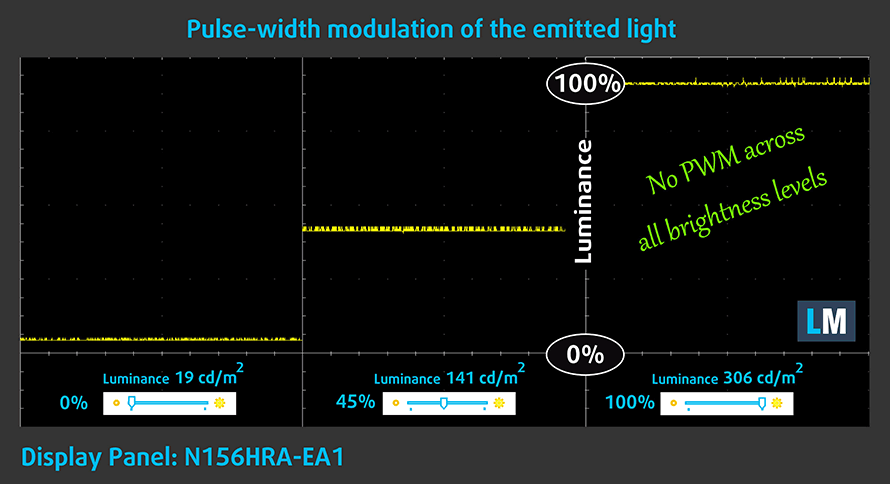 Blaulicht-Emissionen
Die Installation unseres Health-Guard-Profils eliminiert nicht nur PWM, sondern reduziert auch die schädlichen Blaulicht-Emissionen, während die Farben des Bildschirms wahrnehmungsgetreu bleiben. Wenn Sie mit blauem Licht nicht vertraut sind, lautet die Kurzfassung: Lichtemissionen, die sich negativ auf Ihre Augen, Ihre Haut und Ihren gesamten Körper auswirken. Weitere Informationen dazu finden Sie in unserem Artikel über Blaues Licht.
Fazit
Das Acer Nitro 5 (AN515-57) in der von uns getesteten Konfiguration hat ein 144Hz IPS-Panel mit einer FullHD-Auflösung, komfortablen Blickwinkeln, einem guten Kontrastverhältnis und einer PWM-freien Hintergrundbeleuchtung. Das Panel ist nicht perfekt – seine Nachteile sind die geringe Farbabdeckung und die langsamen Pixel-Reaktionszeiten.
Kaufen Sie unsere Profile
Da unsere Profile auf jedes einzelne Displaymodell zugeschnitten sind, sind dieser Artikel und das dazugehörige Profilpaket für Acer Nitro 5 (AN515-57) Konfigurationen mit 15,6″ FHD IPS Innolux N156HRA-EA1 (CMN1521) gedacht.
Sollten Sie Probleme beim Herunterladen der gekauften Datei haben, versuchen Sie, den Link, den Sie per E-Mail erhalten, mit einem anderen Browser zu öffnen. Wenn das Download-Ziel eine .php-Datei statt eines Archivs ist, ändern Sie die Dateierweiterung in .zip oder kontaktieren Sie uns unter [email protected]
Weitere Informationen zu den Profilen finden Sie HIER.
Ton
Die Lautsprecher des Acer Nitro 5 (AN515-55) bieten einen leisen Klang mit guter Qualität. Die tiefen, mittleren und hohen Töne sind frei von Abweichungen.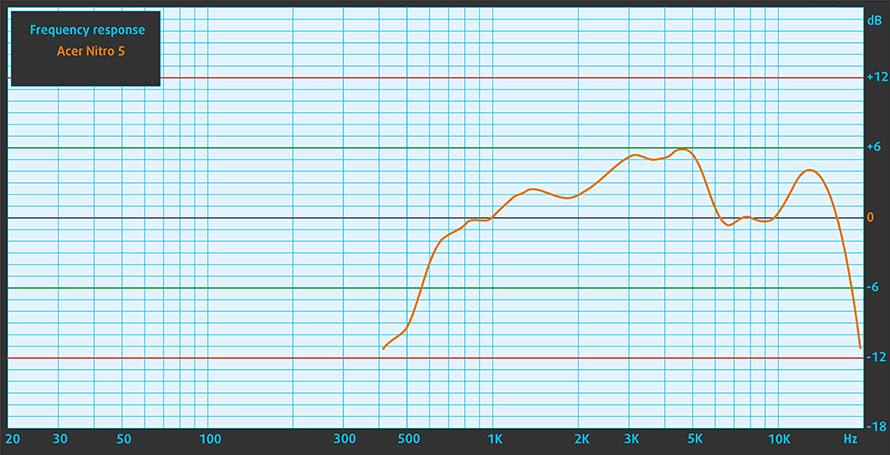 Treiber
Alle Treiber und Dienstprogramme für dieses Notebook finden Sie hier: https://www.acer.com/ac/en/US/content/support-product/8963?b=1
CPU-Optionen
Zumindest im Moment ist das Nitro 5 (AN515-57) mit zwei CPU-Optionen erhältlich – dem Intel Core i5-11400H und dem Core i7-11800H.
Acer Nitro 5 (AN515-56/57) CPU variants
Here you can see an approximate comparison between the CPUs that can be found in the Acer Nitro 5 (AN515-56/57) models on the market. This way you can decide for yourself which Acer Nitro 5 (AN515-56/57) model is the best bang for your buck.
Note: The chart shows the cheapest different CPU configurations so you should check what the other specifications of these laptops are by clicking on the laptop's name / CPU.
GPU-Optionen
Die Grafikvarianten bieten mehr Optionen – wir beginnen mit der GeForce GTX 1650, gefolgt von reinen Ampere-Angeboten – Geforce RTX 3050 (75W), RTX 3050 Ti (75W), RTX 3060 (95W) und RTX 3070 (100W). Beachten Sie, dass Acer in den letzten Monaten viele Firmware-Updates für seine Geräte veröffentlicht hat, die die TGPs auf ein höheres Niveau anheben – hier haben wir die angehobenen Werte veröffentlicht. Wenn Ihr Gerät mit einer niedrigeren GPU-TGP kommt, müssen Sie die Firmware aktualisieren.
Acer Nitro 5 (AN515-56/57) GPU variants
Here you can see an approximate comparison between the GPUs that can be found in the Acer Nitro 5 (AN515-56/57) models on the market. This way you can decide for yourself which Acer Nitro 5 (AN515-56/57) model is the best bang for your buck.
Note: The chart shows the cheapest different GPU configurations so you should check what the other specifications of these laptops are by clicking on the laptop's name / GPU.
Gaming-Tests (internes Display)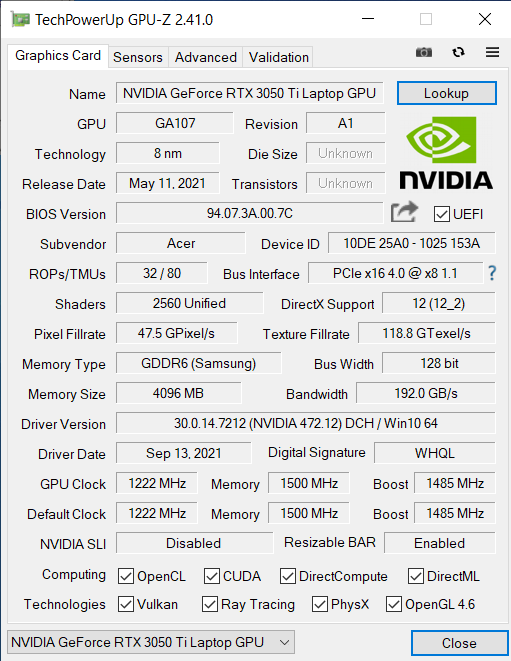 | Metro Exodus | Full HD, Niedrig(Einstellungen prüfen) | Full HD, Hoch(Einstellungen prüfen) | Full HD, Extrem(Einstellungen prüfen) |
| --- | --- | --- | --- |
| GeForce RTX 3050 Ti (75W) | 73 fps | 45 fps | 22 fps |

| Gears 5 | Full HD, Niedrig(Einstellungen prüfen) | Full HD, Mittel(Einstellungen prüfen) | Full HD, Hoch(Einstellungen prüfen) | Full HD, Ultra(Einstellungen prüfen) |
| --- | --- | --- | --- | --- |
| GeForce RTX 3050 Ti (75W) | 89 fps | 77 fps | 70 fps | 60 fps |

| Assassin's Creed Odyssey | Full HD, Niedrig(Einstellungen prüfen) | Full HD, Mittel(Einstellungen prüfen) | Full HD, Hoch(Einstellungen prüfen) | Full HD, Ultrahoch(Einstellungen prüfen) |
| --- | --- | --- | --- | --- |
| GeForce RTX 3050 Ti (75 W) | 60 fps | 56 fps | 51 fps | 32 fps |
Spieltests (externer Bildschirm)
Temperaturen und Komfort
Maximale CPU-Last
Bei diesem Test werden die CPU-Kerne zu 100 % ausgelastet, wobei ihre Frequenzen und die Chiptemperatur überwacht werden. Die erste Spalte zeigt die Reaktion des Computers auf eine kurze Belastung (2-10 Sekunden), die zweite Spalte simuliert eine ernsthafte Aufgabe (zwischen 15 und 30 Sekunden), und die dritte Spalte ist ein guter Indikator dafür, wie gut das Notebook für lange Belastungen wie Video-Rendering geeignet ist.

Durchschnittliche Kernfrequenz (Basisfrequenz + X); CPU-Temp.
| | | | | |
| --- | --- | --- | --- | --- |
| Intel Core i7-11800H (45W TDP) | 0:02 – 0:10 Sek. | 0:15 – 0:30 Sek. | 10:00 – 15:00 min | Maximale Lüfter |
| Acer Nitro 5 (AN515-57) | 3,88 GHz (B+69%) @ 80°C @ 102W | 3,86 GHz (B+68%) @ 90°C @ 103W | 3,32 GHz (B+44%) @ 82°C @70W | – |
| Lenovo Legion 5i Pro (16″) | 4,04 GHz (B+76%) @ 95°C @119W | 3,88 GHz (B+69%) @ 96°C @105W | 3,57 GHz (B+55%) @ 86°C @80W | – |
| MSI Creator Z16 (A11Ux) | 3,12 GHz (B+36%) @ 96°C @ 68W | 3,03 GHz (B+32%) @ 95°C @ 62W | 2,76 GHz (B+20%) @ 95°C @ 53W | 2,90 GHz (B+26%) @ 95°C @ 59W |
| MSI GE76 Raider (2021) | 3,22 GHz (B+40%) @ 95°C @ 67W | 3,11 GHz (B+35%) @ 94°C @ 62W | 3,14 GHz (B+37%) @ 94°C @ 61W | 3,26 GHz (B+42%) @ 94°C @ 64W |
| ASUS TUF F15 (FX506, 2021) (Turbo-Modus) | 3,98 GHz (B+73%) @ 86°C @ 102W | 3,88 GHz (B+69%) @ 95°C @ 100W | 3,44 GHz (B+50%) @ 87°C @ 77W | – |
| MSI Pulse GL76 | 3,16 GHz (B+37%) @ 95°C @ 65W | 3,00 GHz (B+30%) @ 95°C @ 59W | 2,87 GHz (B+25%) @ 95°C @ 55W | – |
| MSI Pulse GL66 | 2,94 GHz (B+28%) @ 94°C @ 58W | 2,76 GHz (B+20%) @ 94°C @ 52W | 2,77 GHz (B+20%) @ 94°C @ 52W | – |
Meine Damen und Herren, wir haben einen gut gekühlten 8-Kern Intel Core i7-11800H in einem Nitro 5 Gerät. Nicht nur das, sondern die CPUs boosten viel höher als einige andere Premium-Konkurrenten, die gleichzeitig auch teurer sind. Das Wichtigste dabei ist, dass die Kühlung einen durchschnittlichen Takt von 3,32 GHz auch bei längerer intensiver Nutzung aufrechterhalten kann, während die CPU-Temperatur bei 82 °C liegt – ein respektables Ergebnis.
Spiele unter realen Bedingungen
| NVIDIA GeForce RTX 3050 Ti (75W) | GPU-Frequenz/Kerntemperatur (nach 2 Minuten) | GPU-Frequenz/Kerntemperatur (nach 30 Minuten) |
| --- | --- | --- |
| Acer Nitro 5 (AN515-57) | 1616 MHz @ 70°C @ 66W | 1607 MHz @ 72°C @ 65W |
| Acer Nitro 5 (AN515-57) mit Kühlpad | 1640 MHz @ 68°C @ 66W | 1619 MHz @ 72°C @ 65W |
| Acer Nitro 5 (AN515-57) mit maximaler Lüftergeschwindigkeit | 1651 MHz @ 65°C @ 66W | 1632 MHz @ 69°C @ 66W |
Die GeForce RTX 3050 Ti (75W) ist kein Kraftpaket und leitet nicht allzu viel Wärme ab. Wenn man die Lüfter in ihrer Vanilla-Einstellung verwendet, wird der GPU-Kern bei kurzer Last auf etwa 1616 MHz hochgetaktet, während er bei langen Gaming-Sessions auf 1607 MHz heruntertaktet, was bedeutet, dass es keinen sichtbaren Unterschied zwischen kurzer und langer Last gibt, zumindest wenn es um die reine GPU-Leistung geht – schön.
Wir haben das Notebook mit einem Kühlpad und mit voll aufgedrehten Lüftern getestet. Mit dem Kühlpad ist die GPU-Frequenz etwas höher, während die Temperaturen im Vergleich zu den Standard-Lüftereinstellungen gleich sind. Nun, es gibt eine Verbesserung, wenn man die Lüfter auf maximale Geschwindigkeit stellt, aber mein Gott – der CPU-Lüfter dreht mit 5000 U/min und der GPU-Lüfter mit 6000 U/min. Nein, in diesem Modus ist das Notebook nicht nur ein Staubsauger – es ist ein Kampfjet, der in Ihrer Nähe fliegt.
Komfort unter Volllast
Das Notebook ist keineswegs leise, aber wir können das Geräusch, das von den Lüftern ausgeht, als durchschnittlich laut bezeichnen, was im Vergleich zum 2020er-Gerät eine Verbesserung darstellt, vor allem, wenn wir es mit dem 2019er-Geschwistermodell vergleichen. Die Tastatur wird warm, wenn das Notebook belastet wird – der WASD-Bereich und die Handballenauflage sind mäßig heiß, aber nicht zu sehr.
Fazit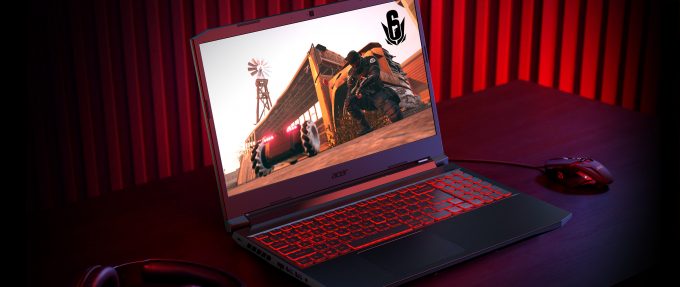 Das Acer Nitro 5 (AN515-57) ist ein aufgefrischtes Gerät, das uns mit seiner ordentlichen Leistung überrascht. Der Preis ist nicht zu hoch, aber gleichzeitig bietet es eine Menge für sein Geld. Die Verarbeitungsqualität ist für diese Art von Notebook in Ordnung. Sicher, es handelt sich um ein Vollkunststoffgehäuse, aber das Gerät fühlt sich trotz der nicht ganz so hochwertigen Materialien robust und stabil an.
Das Display ist eine gemischte Sache – es ist ein PWM-freies Panel, was gut für die Augen bei langen Gaming-Sessions ist. Außerdem hat es ein gutes Kontrastverhältnis und angenehme Blickwinkel. Andererseits ist die Farbabdeckung zu gering, was kein großes Problem ist, wenn man es hauptsächlich für Spiele verwendet, aber wenn man farbempfindliche Arbeiten verrichten möchte, sollte man sich nach einem anderen Gerät mit einem besseren Panel umsehen. Leider ist die Pixel-Reaktionszeit eher langsam, wenn Sie also schnelle Online-Shooter spielen wollen, werden Sie das wahrscheinlich bemerken.
Die Tastatur ist eine großartige Einheit – sie hat einen langen Tastenhub und ein klickendes Feedback, sie hat eine Hintergrundbeleuchtung, einen Nummernblock, große Pfeiltasten und sie ist leise, was angenehm ist, wenn man beim Spielen nicht alleine im Raum ist. Das Touchpad ist nur eine durchschnittliche Leistung, obwohl wir schon präzisere Geräte als dieses gesehen haben.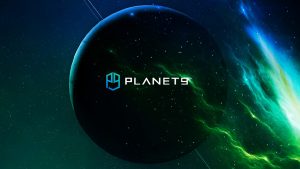 Was die Aufrüstbarkeit angeht, ist dieses Notebook sprachlos – für diesen Preis hat es zwei SODIMMs, zwei M.2-Steckplätze (einer für PCIe-Laufwerke und der andere kann sowohl PCIe- als auch SATA-Standards verarbeiten) und einen normalen SATA-Anschluss – Daumen hoch! Was den Komfort angeht, so bietet dieses Modell eine normale Erfahrung unter Last – nicht zu leise, aber auch nicht zu laut.
Trotz des durchschnittlichen Geräuschpegels ist dies ein Schritt in die richtige Richtung, was die Geräuschentwicklung angeht. In Bezug auf Takt und Temperatur überrascht uns dieses Gerät zum zweiten Mal – nicht nur die CPU- und GPU-Frequenzen sind im Vergleich zu anderen, viel teureren Konkurrenten höher, sondern auch die Temperaturen des Prozessors und der Grafikkarte sind in Ordnung. Sicher, das Gehäuse des Laptops wird bei Belastung heiß, aber der WASD-Bereich und die Handballenablage kochen nicht, so dass sie das Spielerlebnis nicht ruinieren werden.
Zusammenfassend lässt sich sagen, dass das Acer Nitro 5 (AN515-57) ein wahres Juwel in der Budget-Gaming-Kategorie ist. Die aufgefrischte Version kommt mit einer guten Tastatur, einem PWM-freien Display (Innolux N156HRA-EA1 CMN1521), die Kühlung ist fähig genug, um anständig hohe CPU- und GPU-Takte neben sicheren Temperaturen unter Last aufrecht zu erhalten. Darüber hinaus ist das Notebook reich an Aufrüstungsmöglichkeiten, was in dieser Preisklasse selten ist.
Die Nachteile des Notebooks sind der fehlende SD-Kartenleser und die Thunderbolt-Unterstützung, und die negative Seite des Panels ist die langsame Reaktionszeit und die geringe Farbabdeckung.
Sie können die Preise und Konfigurationen in unserem Specs System überprüfen: https://laptopmedia.com/series/acer-nitro-5-an515-56/