[38 Gaming tests + videos] NVIDIA GeForce GTX 1650 [40W, 896 CUDA, GDDR6] – a good balance between power consumption and performance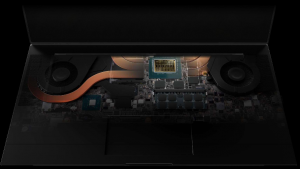 The mobile high-end NVIDIA RTX GPUs are definitely a good choice for gamers with big wallets but most users are aiming for something in the middle between price and performance. In this case, if a laptop with the NVIDIA GeForce GTX 1660 Ti is too expensive the next logical choice is the GeForce GTX 1650.
This fella is being around since 2019 and it has a lot of versions with different CUDA cores and memory types. Based on our testing, we think that all versions are capable when it comes to gaming on a notebook. Well, yes, it's not an RTX 2080 but if you have a look at the results down below, you'll see for yourselves that the GeForce GTX 1650 is still a decent choice.
Meanwhile, you can check out all available laptops with GeForce GTX 1650 here:

Contents
Specs overview
For this article, we have the refreshed 40W version of the GTX 1650 that is equipped with low-power GDDR6 memory modules that will keep the power consumption down. Theoretically, this will allow more boost for the core if the laptop has a decent cooling solution.
This particular GPU has just 896 CUDA cores (there are variants with 1024 CUDAs as well) and it has an 1170 MHz base clock and we have 1350 MHz for boost frequency. The memory bus is 128-bit just like every other GTX 1650 on the market and the ROP count is 32. As you may have already guessed, this a Turing GPU that uses the TU117 chip.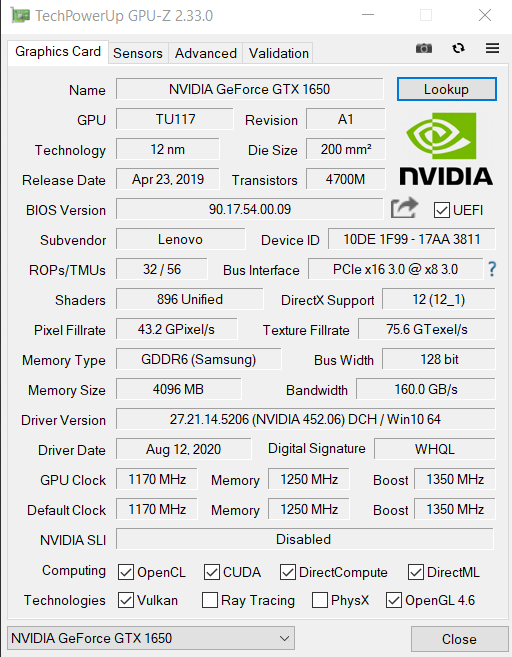 GPU specs table
|   | GeForce GTX 1650 |
| --- | --- |
| Architecture | Turing |
| GPU chip | TU117 |
| Shader units | 896 – 1024 |
| ROPs | 32 |
| Base Clock (MHz) | up to 1395 |
| Boost clock (MHz) | up to 1560 |
| Memory clock (MHz) | up to 8000 |
| Memory size (MB) |  4GB |
| Memory type | GDDR5 / GDDR6 |
| Memory bus width (bit) | 128 |
| TGP (Total Graphics Power) | up to 50W |
| DirectX version | 12.1 |
| Technology | 12nm |
| RTX capabilities | Yes |
| Release date | 01.2020 |
| Detailed specs | Link |
Gaming tests and gameplay videos (ext. monitor)







































Verdict
The NVIDIA GeForce GTX 1650 [40W] is a capable graphics solution. No matter the fact that our sample is equipped with just 896 CUDA cores the performance is there. The 60 FPS mark isn't a problem if you stick to Medium or High settings. The Ultra preset is possible too but in some heavy titles, the FPS is fluctuating between 20 and 40, sometimes even a bit higher.
The good news is that this GPU can offer a comfortable gaming experience if you pick the right gaming machine. Our test sample is the Lenovo Yoga Slim 7 (15) and we were pretty happy with it during the testing because the shell of the machine wasn't too hot (especially the WASD area) and the noise levels are nothing to worry about. This is due to the fact that the 40W variant of the GeForce GTX 1650 combined with a low-power GDDR6 memory dissipates less heat compared to the 50W GTX 1650 with GDDR5.
All laptops equipped with the GeForce GTX 1650