Acer Swift 5 (SF514-52) vs Acer Swift 5 (SF514-51) – what are the differences?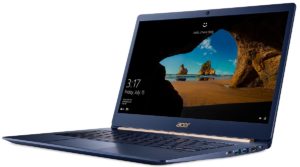 Usually, after we preview one laptop we then compare it to its predecessor so you can take a glimpse at the major differences and decide for yourself whether the upgrade is needed. This is exactly what we are going to do with Acer Swift 5 (SF514-52) and Acer Swift 5 (SF514-51) in today's article.
For starters, Acer Swift 5 (SF514-52) can be configured with up to 8th generation Intel Core processors that are more powerful but have the same energy consumption as the 7th generation ones which can be found in the previous model. In addition, the former accommodates an Intel UHD Graphics 620 GPU, while the latter – Intel HD Graphics 620. Quite expectedly, the SF514-52 model comes with up to 16 GB of DDR4-2400 RAM compared to up to 8GB of DDR4-2133 RAM in the SF514-51.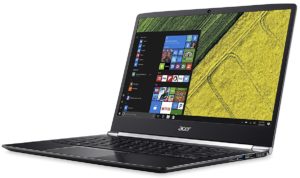 Additionally, both devices feature 14-inch IPS panels with Full HD (1920 x 1080) resolution. However, there is a noticeable difference in the weight – Acer Swift 5 (SF514-52) is lighter than its predecessor – 0.97 kg (2.1 lbs) vs 1.30 kg (2.9 lbs). Furthermore, the notebooks are made of different materials as the newer model sports magnesium-lithium top and bottom and magnesium-aluminum palm rest area which makes it extremely portable but also stable, while the previous one – aluminum and plastic.
And finally – the difference in the connectivity options hides in the USB Type-A ports – Acer Swift 5 (SF514-52) features two USB 3.0 Type-A ports that provide faster data transfer compared to the 2.0 ones in its predecessor.

Specs sheet
Series
OS
CPU

Intel Core i7-8550U
Intel Core i5-8250U

Intel Core i7-7500U
Intel Core i5-7200U

RAM

up to 16 GB of DDR4-2400 RAM

up to 8 GB of DDR4-2133 RAM

Internal storage
GPU
Display
14.0", Full HD (1920 x 1080), IPS
14.0", Full HD (1920 x 1080), IPS
Connectivity
Wi-Fi 802.11ac (2×2), Bluetooth 4.1
802.11ac, Bluetooth 4.0
Features

1x USB 3.0 Type-A (Sleep and Charge)
1x USB 3.0 Type-A
1x USB 3.0 Type-C
HDMI
SD card reader
audio jack
Security Lock slot

2x USB 2.0 Type-A
1x USB 3.0 Type-C
HDMI
SD card reader
combo audio jack
Security Lock slot

Battery
Weight
0.97 kg (2.1 lbs)
1.30 kg (2.9 lbs)
All Acer Swift 5 (SF514-52) configurations
All Acer Swift 5 (SF514-51) configurations