ASUS ROG Strix G502/GL502 preview – what seems to be a gorgeous blend between GL552 and G501
ASUS silently announced a totally new notebook, which should fill the gap between the ASUS ROG G552 and the flagship G752. In fact, it offers some pretty impressive features taking an edge over its rivals and the aforementioned ROG alternatives. The notebook will be slimmer, lighter and can go up to GeForce GTX 970M GPU, which is kind of impressive given the form factor of this thing. The exact release date of the product is unknown yet but the starting price is €2 000. Definitely pricey but we are yet to see if the price is appropriate.
The notebook also carries the name "Strix" as part of the well-known product line of gaming gear and hardware. It's interesting to note that the laptop also offers a good choice of hardware options, not only a GPU swap. Here's what we know so far.
You can check every now and then and see when the notebook pops out on the market: http://amzn.to/1VC4VG2

Impressive dimensions and powerful hardware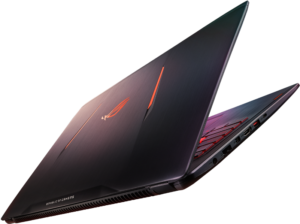 According to ASUS, the laptop should weigh just 2.2 kg, which is considerably lower than most ROG laptops, and it's incredibly thin – 23.5 mm. We are really excited to get our hands on the GTX 970M version and see how the cooling system will handle it. Speaking of which, it uses a so-called Hyper Cool Duo-Copper, which is basically two fans with (probably )shared heat pipes and cooling both chips with the main exhaust vent at the back. This kind of placement, combined with enough breathing room, assures excellent results as we've seen on numerous others gaming notebooks from the company and its competitors. We hope the thermal design will have its saying as well.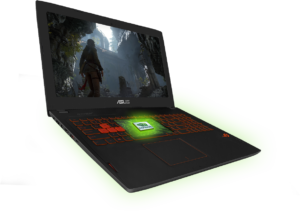 CPU options offer Core i5-6300HQ and Core i7-6700HQ paired with NVIDIA GeForce GTX 970M with either 3GB or 6GB of GDDR5 VRAM. We are interested in knowing if the laptop will be using a GTX 965M GPU a more affordable option to keep its price closer to the current G552VW laptop. Screen options are also plenty, each of which offers 15-inch IPS panel with Full HD resolution in two flavors – one of the panels covers 72% NTSC standard while the other offers 94% NTSC or in other words – 100% sRGB and 98% Adobe RGB. There's also a 72% NTSC Ultra HD variant, but it will definitely be pricier.

Storage options also hold a key feature – up to 2TB HDD + either M.2 SATA SSD or PCIe NVMe SSD sticks. However, the RAM chips can go only up to 16GB via two channels using the DDR4-2133 standard. But we doubt anyone would need more as 16GB for gaming nowadays is just overkill for most.

Newly added features and redesigned keyboard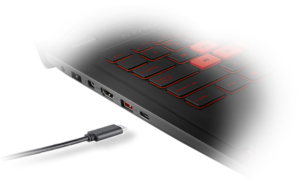 We've always liked ASUS' keyboards so we are quite interested in testing the new keyboard design, which offers 1.6 mm key travel, tactile feedback and scissor-switch keys for better feel and control. ASUS also highlights the ambient noise reduction thanks to the built-in microphones. This will definitely come in handy to those of you gaming on-the-go or just like to play at loud LAN parties.
The so-called ROG Gaming Center also makes an appearance – we are familiar with the software as it features in all ROG flagships (last year's G752 and the one before – G751). And finally, we would like to note that despite its portability, the sides of the machine make room for a pretty versatile connectivity options including USB 3.0, USB-C 3.1, HDMI and… mini DisplayPort. The last one should give you the opportunity to pair the laptop with an external G-Sync-enabled monitor for a buttery smooth gaming experience. Though, we cannot confirm the assumption at this point.

Specs sheet
Some of the specs may differ depending on your region.

CPU
Intel Core i5-6300HQ or Intel Core i7-6700HQ
RAM
up to 16GB (2x 8096MB) – DDR4-2133
GPU
up to NVIDIA GeForce GTX 970M (6GB GDDR5)
HDD/SSD
up to 2TB HDD + either 128GB/256GB/512GB M.2 SATA SSD or 128GB/256GB/512GB M.2 PCIe NVMe SSD
Display
15.6-inch – 1920×1080 (Full HD) IPS, matte (72% NTSC) / 15.6-inch – 1920×1080 (Full HD) IPS, matte (94% NTSC) / 15.6-inch – 3840×2160 (Ultra HD) IPS, matte (72% NTSC)
Features

USB 3.0
USB 3.1 Type-C
HDMI
mini DisplayPort
built-in microphones with ambient noise reduction
ICEpower loudspeakers

Battery
6-cell, up to 6 hours of browsing
Thickness
23.5 mm (0.93″)
Weight
2.2 kg (4.85 lbs)