Dell Vostro 16 5625 – Top 5 Pros and Cons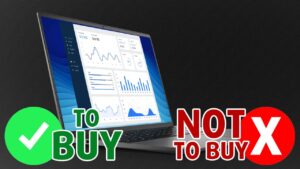 16-inch notebooks are the new craze, mimicking the success that phone manufacturers had when they started playing around with the aspect ratio and screen sizes, which led to a new age in the smartphone market. From there, laptops have slowly started adopting different aspect ratios and display sizes, with the 16-inch 16:10 form factor being the most prominent. Today we have one such notebook, which looks to offer a pretty good bang for the buck, thanks to its use of slightly older hardware, which will still be very relevant in 2022 and beyond.
Today we present you with LaptopMedia's top 5 picks about the Dell Vostro 16 5625.
Dell Vostro 16 5625: Full Specs / In-depth Review
3 reasons to BUY the Dell Vostro 16 5625
1. Design and build quality
Dell didn't skip out on the engineering classes, delivering a tough and rigid aluminum chassis. Despite the great structural support, the weight and height have been kept on the down-low, with the device measuring 1.97 kg and 18 mm for the weight and height, respectively. The design is smart, with simple lines, rounded edges, and corners. One quirky thing about it is the rubber strip on the back, which feels like it was carelessly placed by a human with no sense for craftsmanship and attention to detail.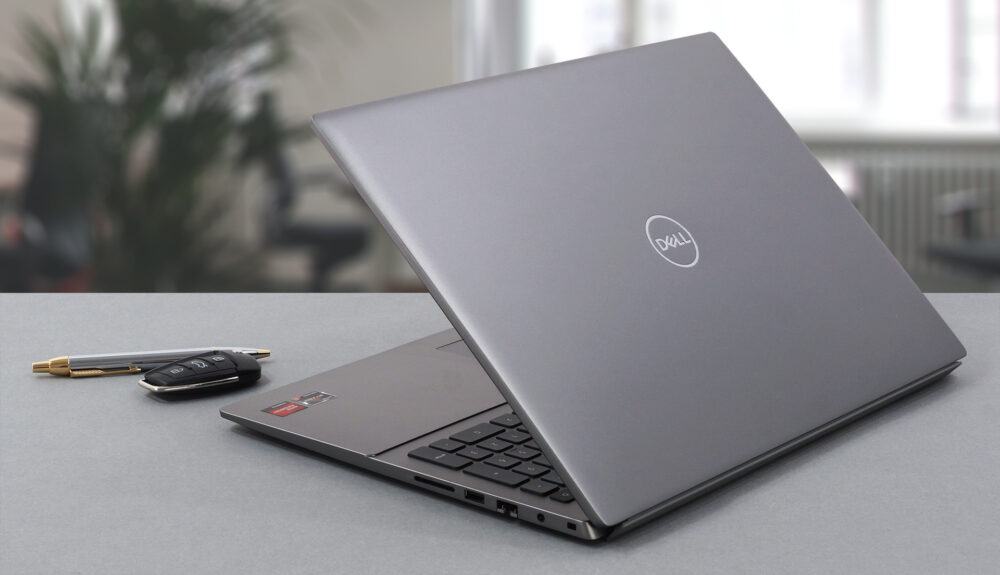 2. I/O
The laptop comes with two USB Type-A 3.2 (Gen. 1) ports, a single USB Type-C 3.2 (Gen. 2) port, an HDMI 1.4 port, an SD card reader, a LAN port, and a 3.5 mm audio jack.
3. Cooling
The cooling solution here is quite simple, but the Ryzen 5000U-series doesn't exactly need a lot. There are two heat pipes connected to a heat sink and a single fan.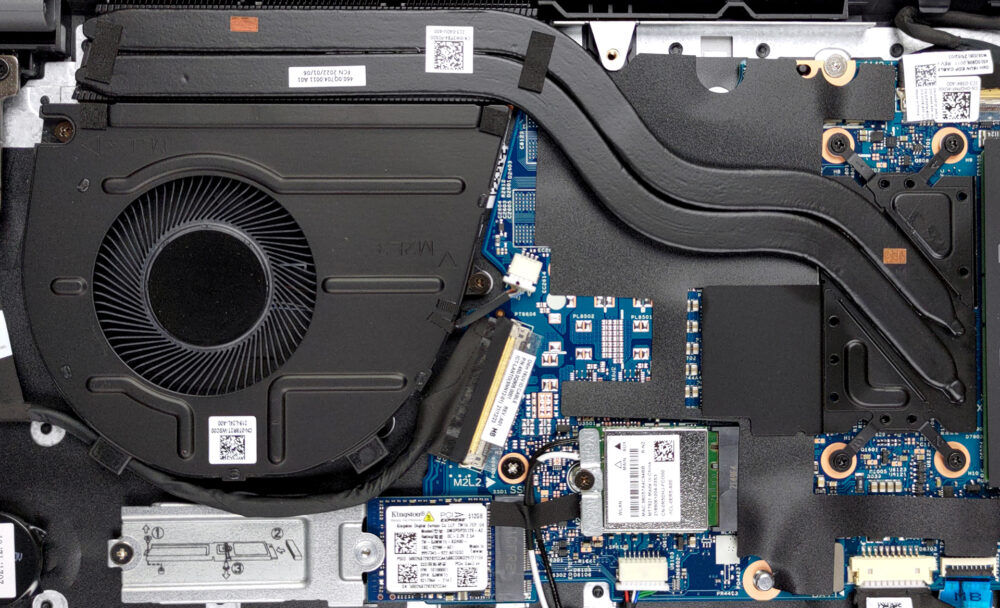 Max CPU load
In this test we use 100% on the CPU cores, monitoring their frequencies and chip temperature. The first column shows a computer's reaction to a short load (2-10 seconds), the second column simulates a serious task (between 15 and 30 seconds), and the third column is a good indicator of how good the laptop is for long loads such as video rendering.
Average core frequency (base frequency + X); CPU temp.
| AMD Ryzen 5 5625U (15W TDP) | 0:02 – 0:10 sec | 0:15 – 0:30 sec | 10:00 – 15:00 min |
| --- | --- | --- | --- |
| Dell Vostro 16 5625 | 3.06 GHz @ 66°C | 2.83 GHz @ 72°C | 2.67 GHz @ 67°C |
Comfort during full load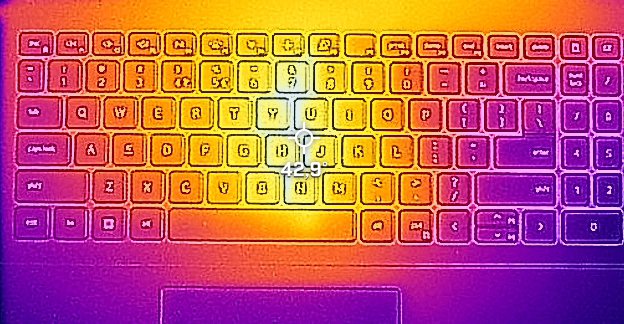 2 reasons NOT to buy the Dell Vostro 16 5625
1. Input devices
Despite the well-built body, the input devices have some kinks to iron out. The unit comes with short key travel, but at least the feedback is clicky. There's also a backlight and a NumPad. The touchpad is pretty average, with a smooth surface, but the clicking mechanism is stiff, which makes using the pad a hassle.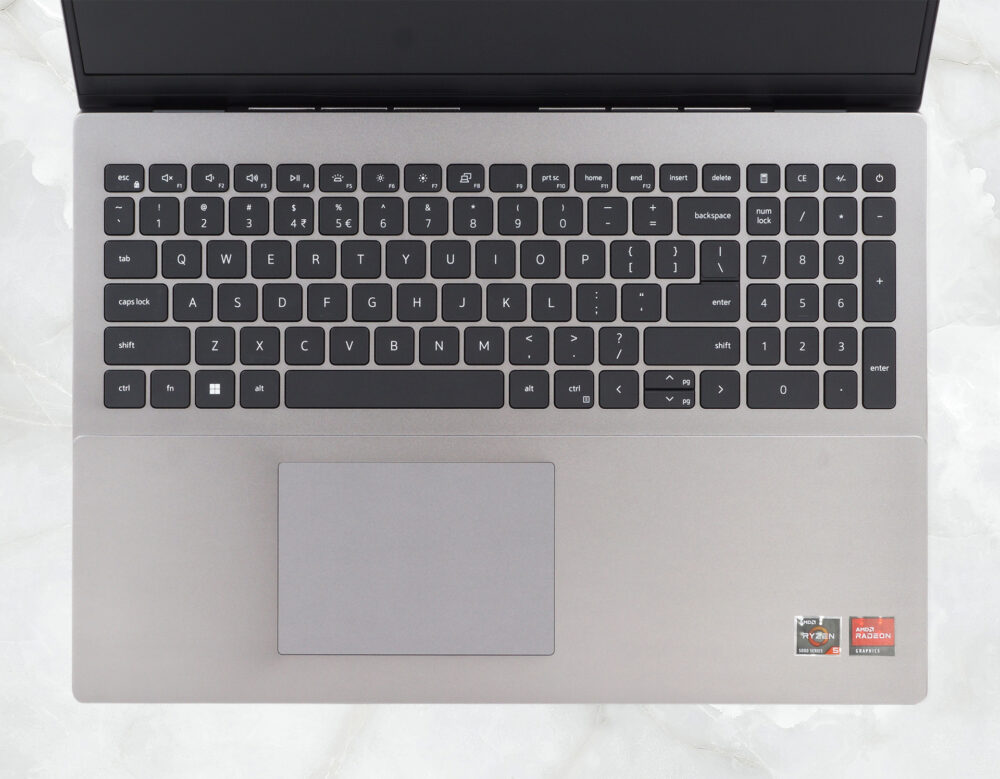 2. Display quality
There are two display options, with a 16:10 aspect ratio. The base model comes with an FHD+ IPS display, with there also being a 3K display. We tested the former option, which has excellent viewing angles, a max brightness of 272 nits in the middle of the screen, and 261 nits as an average for the whole area, with a maximum deviation of 5%. The contrast ratio is pretty high – 1300:1. There's also no PWM usage across all brightness levels.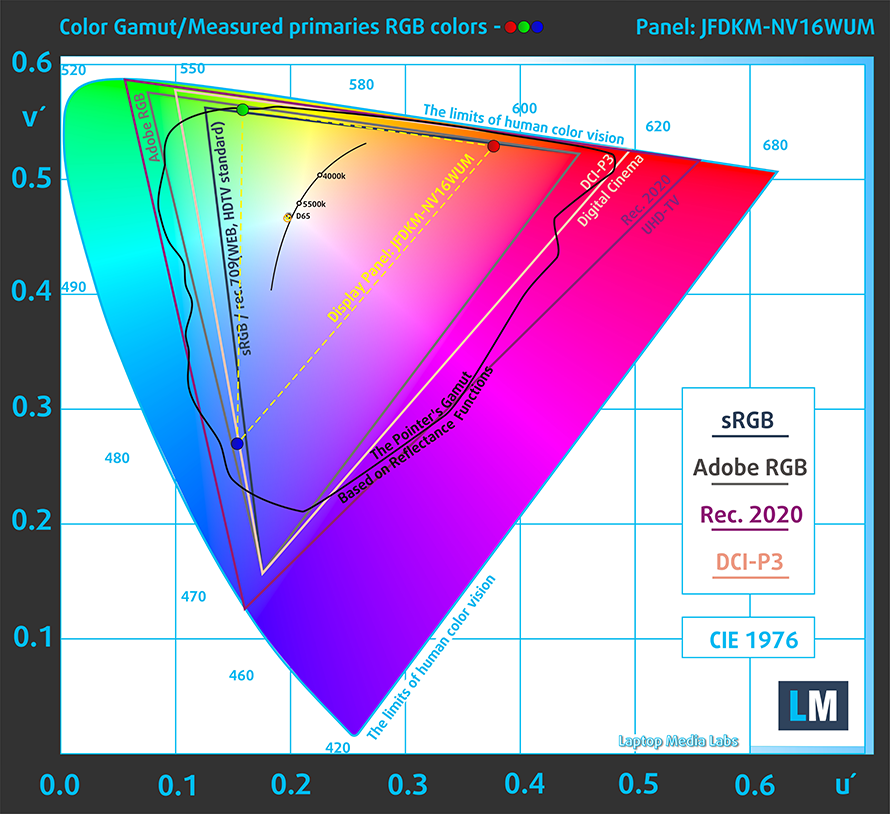 Now, let's get to the bad stuff. The laptop shows only 50% sRGB coverage, while the accuracy doesn't improve much when we apply our Design and Gaming profile. It's not fitting that Dell would go all the way from making a 16-inch 16:10 display that shines in productivity, without placing a good enough panel. Here are the results of the test with the stock settings (left) and with our profile applied (right).
Buy our profiles
Since our profiles are tailored for each display model, this article and its respective profile package are meant for Dell Vostro 16 5625 configurations with 16″ IPS BOE JFDKM-NV16WUM (BOE0A34).
*Should you have problems with downloading the purchased file, try using a different browser to open the link you'll receive via e-mail. If the download target is a .php file instead of an archive, change the file extension to .zip or contact us at bg.laptopmedia@gmail.com.
Read more about the profiles HERE.
In addition to receiving efficient and health-friendly profiles, by buying LaptopMedia's products you also support the development of our labs, where we test devices in order to produce the most objective reviews possible.
All Dell Vostro 16 5625 configurations: