Inside Acer Aspire V 17 Nitro Black Edition (VN7-793G) – disassembly, internal photos and upgrade options
Luckily, Acer has taken note from the previous generation of Nitros and decided to place the upgradeable hardware on the front side of the motherboard so you don't have to go through a full disassembly to install an M.2 SSD or a RAM chip. Still, there are some tricky steps when going for the disassembly.
You can find some of the available configurations here: http://amzn.to/2oRB56w
1. Removing the bottom piece
It's fairly easy to do so – just remove all the screws around the bottom and then pop open the Tobii Eye Tracking bar. Under the plastic strip, you will find another screw that needs to be removed before doing anything. Then, you can pry up the bottom piece and make sure you unhinge the plate at the back where the cooling radiators are placed.
2. Storage
Once you've opened the laptop, you will see the standard 2.5-inch HDD, which in our case is a Seagate 1TB drive and the M.2 SSD. The reviewed sample we got was equipped with a Toshiba PCIe NVMe SSD with 256GB capacity.
3. RAM, Wi-Fi card and battery
As we said earlier, the notebook's memory slots are exposed and easy to upgrade. Our unit was equipped with a single 16GB SK Hynix DDR4-2400 chip leaving the other slot free for an upgrade.
The Wi-Fi module is right next to the right cooling fan (with the bottom facing upwards) and it's made by Qualcomm. The model is Atheros QCNFA344A.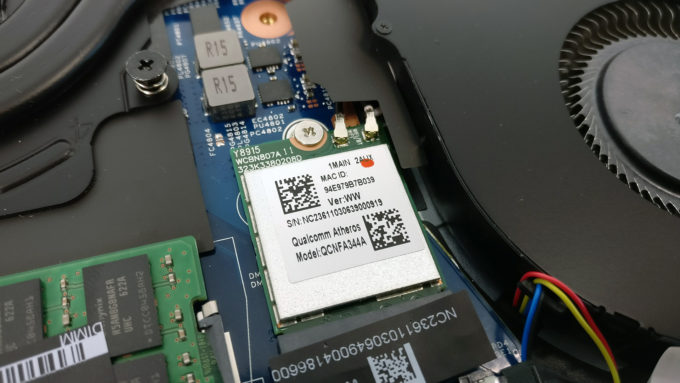 The battery unit is pretty big and it's rated at 69Wh.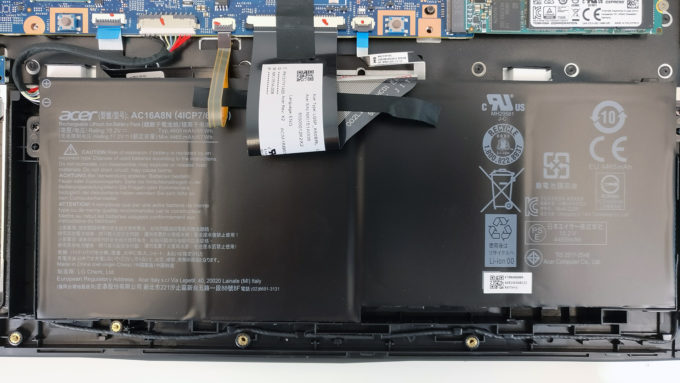 4. Cooling system
The cooling design changes are somehow subtle as the previous generation of Aspire Nitros featured seemingly identical build. Anyway, as you can see from the photos below, there's a single heat pipe going across both heatsinks connecting both cooling fans while the other two heat pipes are dedicated to each chip individually (CPU and GPU). This way the processor and the graphics card won't share too much heat when under heavy load. Also, the cooling fans now feature thin metal blades that change angle during heavy load for optimal airflow. Acer says that this design improves the overall cooling capability of the system. We've seen these fans implemented in the first Acer Predator generation of laptops and are still used in the lineup.
You can read the full review of the laptop here.
You can find some of the available configurations here: http://amzn.to/2oRB56w