Inside Acer Aspire V15 Nitro Black Edition (VN7-591G, GTX 960M) – disassembly, internal photos and upgrade options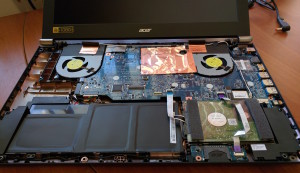 Acer updated its popular among gamers Nitro line with the new GeForce 9xxM GPUs and made it one of the most wanted gaming laptops, once again. There appeared to be little doubt that it would take pole position, given the awesome price tag and the fact that the new V15 was the first GTX 960M notebook on the market. Now there are some more great alternatives, but none of them could match the price of the new Nitro.
We already showed you the notebook in its full glory, in our detailed review, but now we're going to dig a little deeper into its internals.
Aspire V15 Nitro is one of these Acer laptops, which are a real pain in the neck when it comes to upgrading maintenance. Instead of removing a little "service cover" at the bottom, in order to upgrade you RAM, you have to do a full "dissection", which includes taking out the keyboard and the motherboard. It's not that hard, but we still don't recommend you do it by yourself, if you don't have disassembling experience. And if you do – you should still be careful if you're looking forward to the GTA 5 release but don't plan on buying a new (working) machine.

Taking out the keyboard
In order to take out the keyboard panel, you need to remove 12 screws at the bottom and then use some kind of pry tool to lift up the palm rest. Be careful here – you should lift it just a little, so as to get access to the attached cables. There are three – for the keyboard, for the backlight and for the touchpad. Then you can carefully remove the keyboard panel.
HDD, M.2 SSD, Battery, Fans
That gets you access to some of the components which require frequent service – the 2.5" HDD, M.2 slot, battery and the dual fans. Be sure that you've disconnected the battery, before going any further.
The battery is AC14A8L (52.5Wh / 4605 mAh, 11.1V).
The M.2 slot (in our case it's free) is 2280-sized, SATA III with B&M key.
The Wi-Fi card is Qualcomm QCA6174 802.11ac Wi-Fi 2×2 MIMO
Removing the motherboard
If you have to remove the motherboard, disconnect the card reader cable and remove the cardboard, disconnect the Wi-Fi antennas, remove the WLAN card, disconnect the speaker cable and remove the motherboard screws. That way you could remove the motherboard and get full access, including to the two ram slots. This is the "backside" of the motherboard: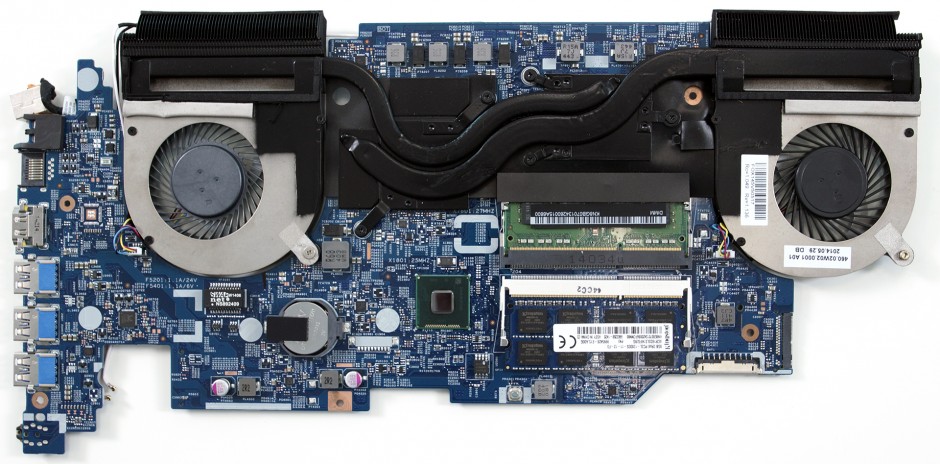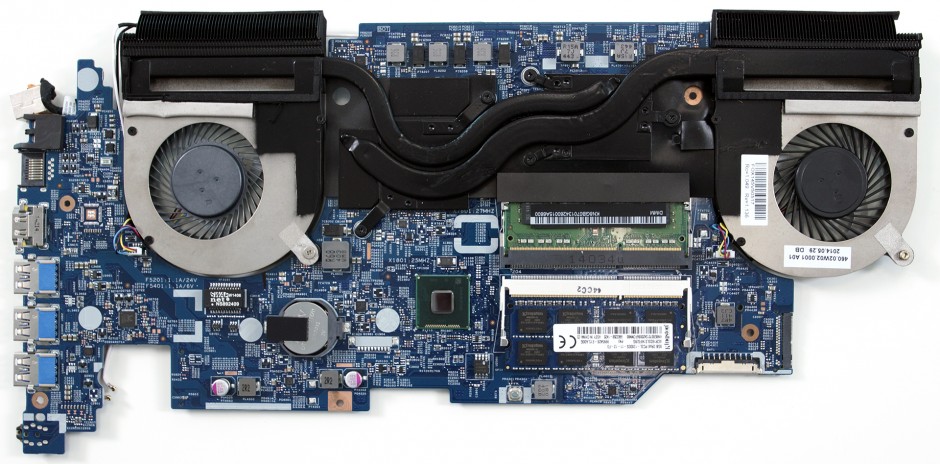 Don't forget to read our detailed review on the updated V15 Nitro:
http://laptopmedia.com/review/acer-aspire-v15-nitro-black-edition-vn7-591g-gtx-960m-same-body-more-powerful-internals/