Inside Dell G5 15 5590 – disassembly and upgrade options
In the ultimate quest of cooling a gaming laptop, some companies are going for new, innovative solutions like metal fan blades, more heat pipes, better thermal design and so on. Let's see how Dell has implemented its knowledge of thermodynamics and what freedom of customization do they offer you post-purchase.
Check out all Dell G5 15 5590 prices and configurations in our Specs System or read more in our In-depth Review.
1. Remove the bottom plate
Obviously, there are no service lids on modern-day laptops anymore. However, it is very easy to remove the bottom plate, especially on this device. After you remove the 9 Phillips-head screws, the bottom plate should pop open by itself and you can lift it up by bare hands. Upon removing it there is a different color approach from the Texas company – a blue cooler, that looks… well, pretty cool.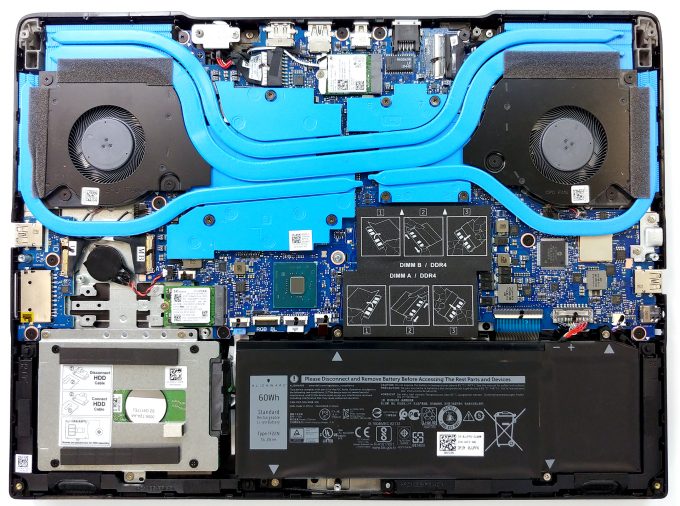 2. Battery
Dell G5 15 5590 is equipped with a 60Wh battery pack with the option of a bigger – 90Wh unit. Either way, it is a champion in battery life even with the smaller pack – around 8 hours away from the plug. If you want (and when upgrading you'll have) to remove the battery, there are four screws, each of them is pointed at by the label on the battery itself, holding it in place. Just don't forget to remove the connector from the motherboard first.

3. Memory and storage
This department shows you everything you'll ever want to upgrade on this laptop – there are two RAM DIMMs, supporting up to 32GB of DDR4 memory, working at 2667 MHz. On the left to the battery, you'll see the SATA connector and an M.2 PCIe x4 slot.
4. Cooling system
There is no second thought here – this laptop's cooling is very pretty. First – the color, then the huge plates which should provide enough headroom for both the GPU memory and the VRMs. As far as the heat pipes – there are four of them – two rather long cooling both the CPU and the GPU at the same time. However, there is one more each leading to a separate heatsink on the side of the device. Those who prefer to change the thermal paste of their devices by themselves would be pleased – all of the screws securing the copper plates and the fans are easy to see.

Check out all Dell G5 15 5590 prices and configurations in our Specs System or read more in our In-depth Review.