Inside Lenovo IdeaPad Y900 – disassembly, internal photos and upgrade options
So what makes Lenovo's latest Y900 gaming beast tick? We find out in out in this article and we have some good news. The new gaming notebook offers the same storage options as its competitors and it's quite easy to disassemble despite the fact that the Y900 doesn't feature service cover at the bottom.
Although the notebook isn't out yet, check Amazon.com regularly to see when it pops out.
1. Removing the bottom piece
The bottom cover of the notebook is made of one whole brushed aluminum plate, which doesn't have a service cover for easy upgrade. Luckily, the bottom plate is quite easy to detach. You just need to unscrew all the bolts and then carefully pry up the bottom.
2. Upgrade options and general hardware
Opening the bottom reveals the cooling system, which has a design on its own apparently. It's similar to the cooling solution that ASUS G752 offers but we will talk more about that in our full review.
The 2.5-inch drive we found in our testing sample was HGST with 1TB of storage spinning at 5400 rpm. In comparison, the G752 and Alienware 17, for example, offer 7200 rpm hard drives but we doubt this will make it to the final unit. Most probably the retail version of the Y900 will offer faster 7200 rpm HDD. Also, you can benefit from two M.2 PCIe NVMe 2280 SSD slots with M-edge key connector. One of the slots was occupied by a Samsung M.2 NVMe 2280 SSD with 256 GB capacity.
Just like most of its competitors, of course, the Y900 supports up to 64GB of DDR4-2133 RAM. You have 4 slots at your disposal, but only two are accessible without removing the motherboard. If you need to access the other two slots, proceed to the next step.
The battery found inside is with 90Wh capacity and we expect some record-breaking results, at least for the IPS version that is. We would also like to note that Lenovo didn't miss the subwoofer as well – you can see it between the battery and the mainboard.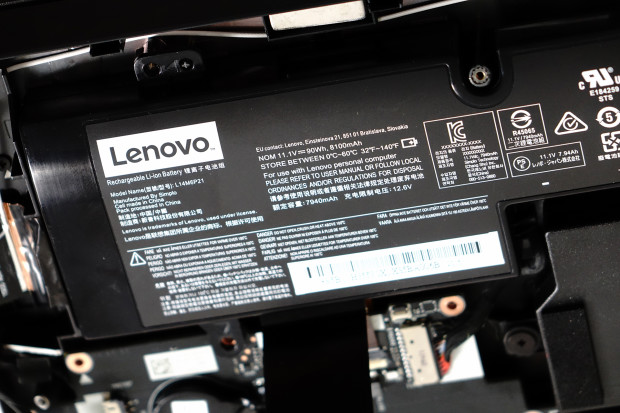 3. Removing the motherboard
This one is fairly easy as well. However, the only reason you might want to flip the motherboard is to access the other two RAM slots. As for the fans, they can be detached without removing the chipset and can be easily cleaned.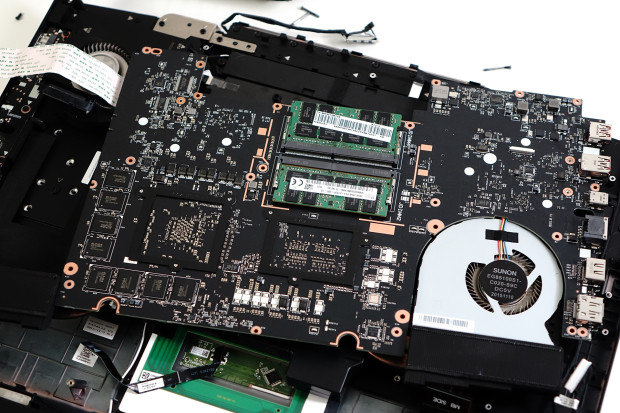 We'll keep you posted about this notebook through the course of our testing and soon we will post the full review. Until then, we suggest reading our first impressions article.
Video