Intel Core i7-8550U (8th Gen, Kaby Lake Refresh) – specs, performance and detailed benchmarks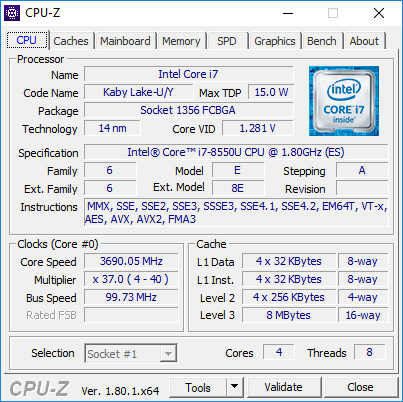 Recently we told you that we have some surprises for you, so after the launch of our Laptops Specs System, now it's time for the next one. Today we'll shed some light on the upcoming Core i7-8550U processor, part of Intel's 8th Generation Core line. Yes, we have the first 8th Gen notebook in our office.
The article contains some preliminary information so it will be updated after August 21th when the CPUs will be officially announced.
Under the pressure of the new AMD Ryzen products, Intel has to do much more than in the last years to safely name itself the big leader of the CPU market. And as you would expect, 8th Gen is a pretty big jump, may be not performance-wise but in another very important aspect – performance/watt ratio. Since laptop battery manufacturers haven't made any significant breakthroughs lately, the CPU consumption is still one of the most important factors when we're looking for a device with decent battery life.
If you need performance, you have to choose a laptop with an HQ/HK processor such as 7700HQ, for example, which has a 45W TDP. If you can sacrifice the powerful CPU in the name of longer life without the charger – you can have a notebook with a ULV CPU.
Until now. As you'll see in the graphs below, although the new Core i7-8550U has just a 15W TDP it can rival two of the most popular HQ processors on the market – i5-6300HQ and i5-7300HQ. Not just that but i7-8550U wipes the floor with its direct predecessors Core i7-7500U and 7600U!
| | | | |
| --- | --- | --- | --- |
| |  Cinebench 11 |  Cinebench 15 |  Fritz |
|  Intel Core i5-7300HQ |  5.82 |  516 |  9775 |
|  Intel Core i7-8550U |  5.40 |  488 |  9876 |
|  Intel Core i5-6300HQ |  5.39 |  465 |  8802 |
|  Intel Core i7-7500U |  3.65 |  328 |  6730 |
A whopping ~50% performance jump over the 7500U and just 5-7% below Core i5-7300HQ in Cinebench 11/15!

Intel Core i7-8550U for gaming?
Buying a laptop with a ULV processor has never been a good idea if you're planning to use it for gaming. Not anymore, Core i7-8550U is perfectly capable of running the latest games, of course when paired with a good GPU. In other words, we can expect thin and light mid-range gaming laptops with great battery life.
However, the integrated one, HD Graphics 620 is powerful enough just for playing light games (like FIFA, Dota 2, CS:GO, etc.) at Low settings and HD resolution.

Intel Core i7-8550U for CPU intensive work?
What if you need a machine for CPU intensive tasks like working with Adobe Photoshop? Core i7-8550U can be a perfect assistant, just make sure you have enough RAM and preferably fast SSD storage.
Our test shows that Core i7-8550U's performance in Adobe Photoshop is much closer to the most powerful mainstream i7 CPU – 7700HQ than to its predecessor i7-7500U.
| | |
| --- | --- |
| |  Adobe Photoshop Action (lower is better) |
|  Intel Core i7-7700HQ |  9.78 sec |
|  Intel Core i7-8550U |  10.50 sec |
|  Intel Core i7-7500U |  17.49 sec |
Intel Core i7-8550U release date
You'll be able to find detailed specs and prices for all i7-8550U laptops in our Laptops Specs System as soon as the CPU hits the market.
You can find more info about the Core i7-8550U here: http://laptopmedia.com/processor/intel-core-i7-8550u/