Lenovo's refreshed IdeaPad Y910 with NVIDIA Pascal GTX 1070 GPU is already in our office, here's what to expect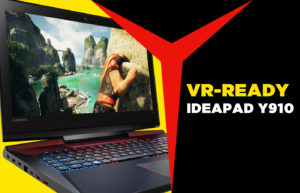 We just got the new and delicious top-tier Lenovo gaming laptop, the IdeaPad Y910, or a prototype of the Y910 to be exact, in our office and we can't wait to compare it to the previous GTX 980M version. It's practically a refreshed version of the Y900 but with a GTX 1070 or 1080 on board reaching up to 8GB of GDDR5 VRAM. The rest of the hardware and design remains the same.
For now, you can find the previous IdeaPad Y900 here: http://amzn.to/2bxahOl
Lenovo announced that the notebook will still ship with the previous storage configurations including two M.2 PCIe NVMe slots supporting RAID 0 setups as well along with the usual Core i7-6820HK and Core i7-6700HQ processors. What's more, Lenovo is sticking to the same screen options, or should we say option – only Full HD (1920×1080) IPS is available. We sure hope the display will support some extra features like 120 Hz refresh rate at least because to take advantage of all that horsepower since we already know that the GTX 1070 is perfectly capable of handling some 4K gaming. Moreover, the display still has no native G-Sync support and this has become a standard for high-end gaming laptops and we are a bit disappointed to see the opposite… again.
However, the Y910 keeps the robust all-aluminum construction with velvet palm rests and the awesome mechanical keyboard with 2 mm key travel. So if those are of great importance to you, we suggest you wait for our full review and see how the Pascal-powered laptop will score. We expect the first retail units to arrive sometime in November with a starting price of €2 799 for the standard GTX 1070 configuration. This is the one we are currently testing so stay tuned for more exclusive insight.