Motorola Moto G3 (3rd Gen) vs Moto G2 GPU benchmarks – GFXBench 2.7 and 3.0, 3DMark, AnTuTu graphics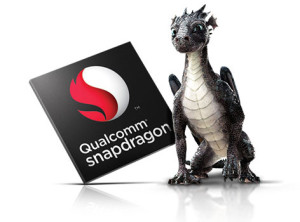 After we introduced you the full specs of the new Moto G3, it's time to check how Qualcomm's Snapdragon 410 inside G3's chassis handles the most popular benchmarks. We're going to begin with the graphics ones which we use in our reviews – GFXBench 2.7 T-Rex, GFXBench 3.0 Manhattan and 3DMark Ice Storm Unlimited. Since some of you expressed interest in Moto G3's AnTuTu score, we'll be checking on that as well.
If you haven't gone through the detailed Moto G3 specs sheet yet, we remind you that the smartphone features the Qualcomm Snapdragon 410 chip with four Cortex-A53 cores clocked at 1.36 GHz, Adreno 306 GPU (400MHz) and 1GB of RAM (for the 8GB version). The could be rather disappointing to those of you who were expecting Snapdragon 615, as most of the rumors were claiming.
Follow us for more interesting info on the matter and don't forget to come back to LaptopMedia.com on the 28th of July so we can watch and discuss the Motorola event together. Right after the event, we'll publish our Motorola Moto G3's detailed review – we have a lot more interesting tests to share with you and we can't wait to do it.
GFXBench 2.7 T-Rex and 3.0 T-Rex
The T-Rex 2.7 test is based on ES 2.0/GL 3.0 and includes highly detailed textures, materials, complex geometry, particles with animated textures and a post-process motion blur effect. The graphics pipeline also features planar reflections, specular highlights and soft-shadows.
The Manhattan 3.0 test is based on ES 3.0 / GL 4.1 and uses deferred rendering and multi-render target (MRT) for the geometry pass, diffuse and specular lightning. It also features complex effects such as depth shadow map, cloaking effect, post-process effects (bloom, depth of field), occlusion query and animated volumetric light shafts.
GXBench 2.7 T-Rex score: 5.3 FPS
GFXBench 3.0 Manhatton score: 1.7 FPS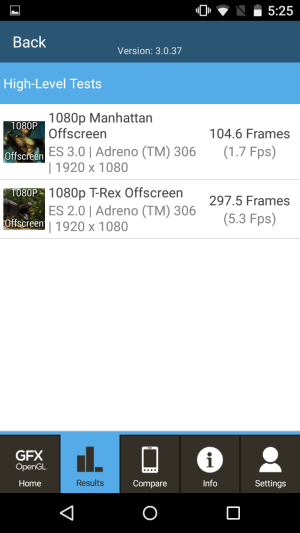 3DMark Ice Storm Unlimited
In this test, 3DMark's Unlimited engine uses a fixed frame interval and renders exactly the same frames in every run on every device. The frames are rendered in 720p "offscreen" while the display is updated with small frame thumbnails every 100 frames to indicate progress.
3DMark Ice Storm Unlimited score: 4450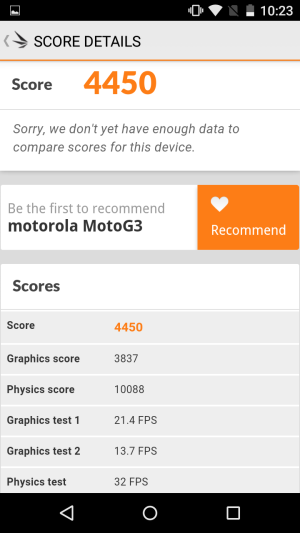 AnTuTu Graphics
AnTuTu 2D Graphics score: 1063
AnTuTu 3D Graphics score (1280 x 720): 3605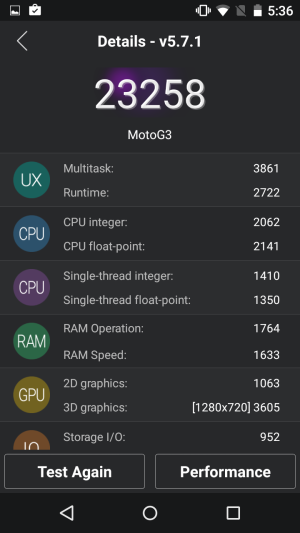 Comparison vs Moto G2 (2nd gen)
GFXBench 2.7
GFXBench 3.0
3DMark Ice Storm Unlimited
AnTuTu 2D
AnTuTu 3D
Motorola Moto G3 (Areno 306@400MHz)
5.3 FPS (

-7%

)
1.7 FPS (

-6%

)
4450 (

-4%

)
1063 (

+13%

)
3605 (

-12%

)
Motorola Moto G2 (Areno 305@450MHz)
5.7 FPS
1.8 FPS
4659
941
4086
Actually, the results are far from impressive but we sort of expected that. Given the higher CPU frequency and the updated cores, it'll be more interesting too see how the new Moto compares to its predecessor in terms of CPU performance.
Don't forget to come back to LaptopMedia.com on the 28th of July so we can watch and discuss the Motorola event together. We have much more interesting stuff to share with you in the meantime.