NVIDIA GeForce 920M – benchmarks and gaming tests

NVIDIA GeForce 920M was announced as early as 21 January 2015, but its market penetration is very slow compared to its bigger brothers like 940M, 950M and 960M. There aren't many laptops with this entry-level GeForce right now, too, but we've just received a new Dell Inspiron 5558 configuration which takes advantage of 920M's low price and basic gaming capabilities to smoothly run  some less demanding games or the latest ones at the lowest graphic settings.
In this article we're going to check how the 920M fares against other video cards from the NVIDIA GeForce 9xx line, so that you could decide if the new GeForce is a good choice for you if you're looking for a multimedia laptop . We're going to pit it against games like F1 2014, Tomb Raider, Thief and even GTA 5, so let's get started.
Check the prices of all the available notebooks with GeForce 920M here: http://amzn.to/1nC2Iey
NVIDIA GeForce 920M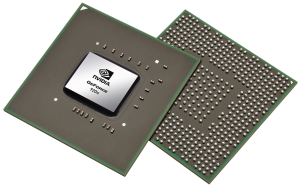 As usual, we'll introduce the new graphic card – it's a (not so direct) successor to GeForce 820M, but it's based on the Kepler architecture (instead of Fermi) and has two shader blocks with 192 shaders each, making a total of 384 shaders (compared to just 96 for 820M). NVIDIA GeForce 920M is built via a 28nm process and is available with 1GB or 2GB DDR3 memory (64-bit bus).
920M has a core speed of 575 MHz (954 MHz with Boost) and memory speed of 1800 MHz. GPU Boost 2.0 allows for an automatic overclock if the laptop's cooling system is able to handle the temperatures. The GPU supports up to 4 active displays and resolutions of up to 3840 x 2160 pixels. SLI mode is not supported.
920M has a TDP of 33W, which is 2.2x higher than 820M's 15W TDP, so it needs more powerful fans and more notebook real estate.

Benchmark tests
Results are from the 3DMark: Fire Strike (Graphics) benchmark (higher the score, the better)
[ad_728]
Gaming tests


| | Tomb Raider (Low) | Tomb Raider (Medium) | Tomb Raider (Max) |
| --- | --- | --- | --- |
| HD (1366 x 768) | 63 fps | 25 fps | 12 fps |
| FHD (1920 x 1080) | 36 fps | 15 fps | 8 fps |

| | F1 2014 (Low) | F1 2014 (Medium) | F1 2014 (Max) |
| --- | --- | --- | --- |
| HD (1366 x 768) | 56 fps | 54 fps | 29 fps |
| FHD (1920 x 1080) | 41 fps | 35 fps | 20 fps |


| | Thief (Low) | Thief (Medium) | Thief (Max) |
| --- | --- | --- | --- |
| HD (1366 x 768) | 21 fps | 15 fps | 10 fps |
| FHD (1920 x 1080) | 12 fps | 10 fps | 6 fps |

| | GTA V (Low) | GTA V (Medium) | GTA V (Max) |
| --- | --- | --- | --- |
| HD (1366 x 768) | 24 fps | 9 fps | 4 fps |
| FHD (1920 x 1080) | 29 fps | 8 fps | 3 fps |