[Quick Guide] Don't focus at Amazon Prime only – here are the real Laptop deals!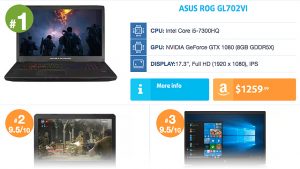 It's that time of the year when Amazon holds its own variant of the Black Friday called Amazon Prime Day. It's exclusive to the Prime subscribers and it's running for 36 hours.
However, instead of showing you just the Prime deals, we'll make a quick and easy guide with the best of all offerings, no matter if they're part of the Prime holiday or not. Of course, you can check our Top 100 Best Gaming Laptop Deals (Price/Performance), for example, any day of the year.
You should still check the Prime Day page, of course, so you won't miss anything there:
Prime Day in the USA
Prime Day in the UK
We have analyzed more than 50 000 configurations so here are the best deals…

LaptopMedia's unique algorithm deals:
Amazon Prime Day Deals:
(Click here to try Prime for free)
We'll keep you updated.