PiPO Work-W9S is a stylish and ultra-cheap notebook with Windows 10, 4GB RAM and Intel Z8300 CPU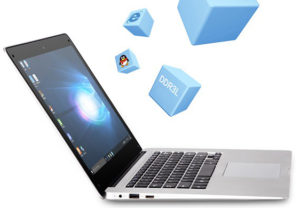 In this article we would like to present to you a very compact notebook – the 14.1-inch PiPO Work-W9S laptop, which can be purchased at a very special price for the next couple of days. It is only one of the many affordable solutions that can be found in the catalog of our GearBest partners.
If you want to learn more about this laptop and its price, you can visit the following link: http://www.gearbest.com/laptops/pp_300028.html
Among the more notable features of PiPO Work-W9S are a quad- core Intel Cherry Trail Z8300 CPU, Intel HD Graphics Gen 8 GPU, 4 GB of RAM and Windows 10 OS. Additionally, the model stands out with its compactness – it is only 2.0 cm thick and weighs 1.468 kg.

Design
Overall the design language employed in this machine resembles to a great extent that of Apple's MacBooks. As far as exterior goes, a shade of gray is the dominant color. The lid offers simplistic design, and you can only find two logos there – one of Intel and another one of Windows 10. The bottom is pretty much the same with two differences – the logo there is that of PiPO and there are two discrete side grills. What is most important here is the profile thickness of 2.0 cm and weight of 1.468 kg which makes this solution extremely compact and good for carrying around.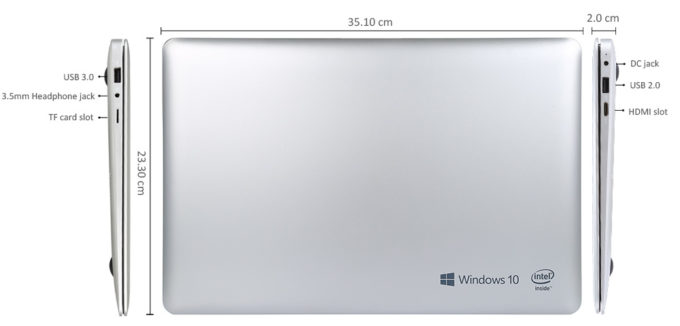 When opened, this device provides two main colors – that of the base is the same as the one of the exterior, and that of the screen bezels, which is black. You are presented with a compact keyboard without a NumPad panel. Additionally, you get a 1366 x 768 TN screen which is good enough for Web browsing and video playback. Above the display there is also a 0.3MP camera for video calls.

Hardware and Software
PiPO Work-W9S uses a combination of a quad-core Intel Cherry Trail Z8300 CPU and Intel HD Graphics Gen 8 GPU. While this may not be the latest and greatest configuration it will still provide enough performance for your everyday tasks. Additionally, you have 4 GB (DDR3L) of RAM, 64 GB internal storage and a 10 000 mAh battery unit.

As far as software is concerned, this compact laptop comes with Windows 10 OS. You must bear in mind that it has been designed to work specifically with this system and any alterations might cause issues and void warranty. If you want to know more about the features of this device, as well as its price and availability, you can click HERE.

Specs Sheet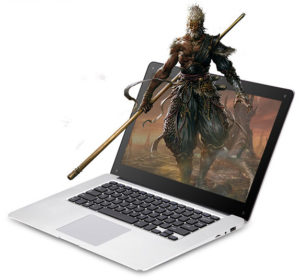 Check price
OS
Windows 10
CPU
Intel Cherry Trail Z8300 (4-core 1.44 GHz)
RAM
4 GB
Internal storage
64 GB (eMMC)
GPU
Intel HD Graphics Gen 8
Display
14.1-inch TN display (1366 x 768 p)
Connectivity
Wi-Fi 802.11b/g/n, Bluetooth 4.0
Camera
 0.3MP (front)
Features

microSD card slot, supports up to 128 GB
2x USB 2.0
HDMI
integrated microphone
integrated loudspeakers
3.5 mm headphones jack

Battery
10000 mAh
Dimensions
35.10 x 23.30 x 2.00 cm
Weight
1.468 kg
Gearbest is running a flash sale with great promotions – check it out here: GEARBEST Flash Sale