Quick review of XPG SX6000 Pro – PCIe NVMe Gen3 x4 SSD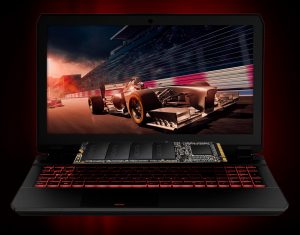 We would like to take a small break from talking about the new notebooks that are coming out these days and shift your attention to a hardware component which is worth your time. As the title gives out, it is an NVMe SSD that we shall discuss and it is part of the renowned XPG gaming series by ADATA.
You can check the purchasing options here: Buy from Amazon.com (#CommissionsEarned)
In this short review, we will try to touch upon all important improvements, technologies, as well as other product peculiarities. What's more, further below you will find a table in which we have put performance test results from this and other competitive units. In this way, you will be able to make up your mind if this SSD is for you.
Contents
General introduction
This bad boy basically offers faster boot, load, and transfer speeds. If we have to be a bit more precise, we are talking about up to 4 times faster performance than that of SATA SSDs. Capacity-wise, the product in question can be as big as 1TB. As for the design, the XPG SX6000 Pro is slimmer than most such devices and this makes it more compatible if your configuration is tighter in terms of internal space.

Tech details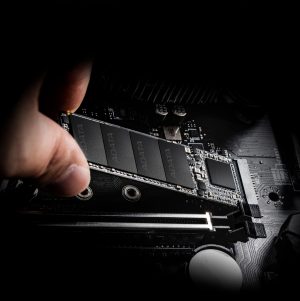 And so, we move on to discuss some more particular details. The fact that we are dealing with a PCIe Gen3x4 SSD means a number of positive things. First, the speeds are higher – up to 2100/1500MB/s of Read/Write performance. Additionally, the NVMe technology used is 1.3 ver which is not the latest iteration but again – gets the job done plus you're not paying a premium price for this bad boy after all. As for the memory, ADATA has used the 3D NAND flash type which offers higher capacity, durability, and power efficiency.
We must also note the presence of HMB (Host Memory Buffer) and SLC Caching technologies that contribute to the SSD having a random performance of up to 250K/240K IOPS. Furthermore, the manufacturer has included an error correcting technology called LDPC and its purpose is to make the SX6000 more reliable. Not of least importance is the 5-year warranty provided by ADATA which comes to show its firm belief in the quality of this product.

Performance comparison
| | | | | | | |
| --- | --- | --- | --- | --- | --- | --- |
| SSD model | Max.Seq.Read (GB/s) | Max.Seq.Write (GB/s) | IOPS 4K Read | IOPS 4K Write | Latency Read (ms) | Latency Write (ms) |
| XPG SX6000 Series (512GB, PCIe 3.0 x4 SSD) | 2.12 | 1.38 | 6645 | 18138 | 0.145 | 0.118 |
| Samsung 970 EVO (500GB, PCIe NVMe) | 3.29 | 2.46 | 10930 | 42366 | 0.003 | 0.025 |
| Toshiba XG5 KXG50ZNV512G (512GB, PCIe 3.1 x4 NVMe) | 3.13 | 0.46 | 8425 | 29661 | 0.055 | 0.046 |
| Samsung SM951 (NVMe) | 2.24 | 1.29 | 11320 | 28450 | 0.057 | 0.034 |
| SK Hynix SC300 (NVMe) | 3.19 | 0.91 | 11000 | 26180 | 0.060 | 0.053 |
CrystalDiskMark – Max.Seq.Read/Write; AS SSD – IOPS 4K Read/Write, Latency Read/Write
You can check the purchasing options here: Buy from Amazon.com (#CommissionsEarned)