Razer Blade Pro preview – 17" 4K gaming laptop with GTX 1080 and overclockable Core i7-7820HK

If you are looking for desktop grade performance on a notebook that the Razer Blade Pro is where you should look at. It packs ultra-powerful hardware in a slim and light chassis. In the recent days, all the hype is around the new ASUS ROG Zephyrus which is also thin and powerful gaming notebook that's just 17.9 mm thick due to the Max-Q design GPU. Razer Blade Pro does not use the new Max-Q design and it is certainly not as thin as the Zephyrus but it still measures at just 22.5 mm (0.88 inches). However, Blade Pro does not come in a light package – it's quite heavy weighing 3.49 kg (7.69 lbs).
You can check out the version with a GTX 1080 8GB and 1 TB SSD over here: http://amzn.to/2t6d0LG
or the model with a GTX 1080 6GB and 512 GB SSD over here: http://amzn.to/2u03Uw2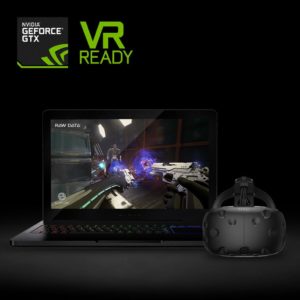 From where should we start? Every aspect of this notebook is just amazing. We are taking a look at the 17.3-inch version of the Razer Blade Pro. Typical for a Razer notebook, the Blade Pro uses IGZO technology for the screen. Speaking of the display, you get 4K UHD (3840 × 2160p) resolution. Combined with NVIDIA G-Sync technology, you will get a buttery-smooth experience while gaming and VR content will look even more immersive. We almost forgot – the screen is also touch-sensitive.
Yes, we mentioned VR and with a reason. Every notebook equipped with a GeForce GTX 1060 or better is labeled VR-capable but it's not enough to just be labeled – VR demands some powerful hardware if you wish to experience good performance. This is why the Razer Blade Pro is equipped with a NVIDIA GeForce GTX 1080 with 6 or 8 GB of blazing fast GDDR5X memory which brings desktop-like performance to notebooks. Blade Pro features a USB Type-C port which supports Thunderbolt 3 so you can connect external 4K monitors or even external GPUs to add even more power. The graphics card is not all there is to a gaming device – you need a powerful processor too. Most gaming laptops are equipped with the Core i7-7700HQ which the standard for mobile gaming but the Blade Pro pushes it to the limit by featuring an overclockable Core i7-7820HK (4 cores/8 threads, 2.90-3.90 GHz, 8 MB cache, 45W TDP). You can overclock it up to 4.3 GHz using Razer Synapse.
Razer Blade Pro is also one of the first notebooks on the market that are THX-certified. Razer has collaborated with the famous company to ensure stunning audio-visual experience.  The display colors are pre-calibrated for accuracy and provide one of the best visuals on a mobile device. It also features high-fidelity speakers without distortion and excellent audio output from the 3.5 mm jack. It even supports 7.1 codecs.

For you audiophiles out there, the Blade Pro has another amazing offer. Owners of the Razer Blade Pro are eligible for a free download and full license of FL Studio 12 Producer Edition. So if you are into music production this would be a great deal.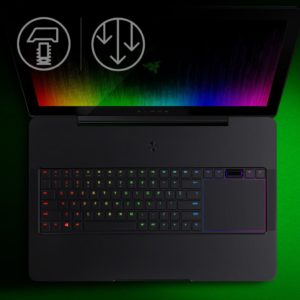 What is a gaming notebook without a proper keyboard? Blade Pro 17 is equipped with a ultra-low-profile mechanical keyboard to not only simulate but to challenge the desktop experience. It has a 65 grams actuation force, tactile feedback and anti-ghosting capabilities.It is equipped with Razer Chroma featuring the full spectrum of 16.8 million colors to customize the backlight the way you want to. It comes with many built-in presets and even templates suitable for different game genres that highlight the necessary keys.
To assure blazing fast performance, the Blade Pro 17 pack 32 GB of 2667 MHz DDR4 RAM in dual-channel configuration. And of course, you need high read and write speeds when accessing your data. That's why the notebook is equipped with up to 2 TB of PCIe NVMe SSD storage configured in RAID 0.
Even with the powerful hardware inside, battery life should be above average thanks to the large 99 Wh lithium-ion polymer unit.
You can check out the version with a GTX 1080 8GB and 1 TB SSD over here: http://amzn.to/2t6d0LG
or the model with a GTX 1080 6GB and 512 GB SSD over here: http://amzn.to/2u03Uw2
CPU

Intel Core i7-7820HK (4C/8T, 8 MB, 2.9/3.9GHz)

Display
17.3-inch IGZO touchscreen panel with 4K UHD (3840 × 2160p) resolution
Graphics
NVIDIA GeForce GTX 1080 6GB/8GB
RAM
32 GB DDR4-2667
Storage
Up to two 2 GB PCIe NVMe SSD
Wi-Fi
Killer™ Wireless-AC 1535 IEEE 802.11a/b/g/n/ac
Bluetooth
Bluetooth 4.1
Ethernet
Killer™ E2500 (Gigabit Ethernet 10/100/1000)
Keyboard
Mechanical keyboard with Razer Chroma
Other I/O
Array microphone, stereo speakers, THX Certified audio jack, webcam, SDXH
Dimensions

Width: 16.7" / 424mm
Depth: 11" / 281mm
Thickness: 0.88" / 22.5mm

Ports

3 × USB 3.0
1 x USB Type-C Thunderbolt 3 connector

Display Outputs
Weight
3.49 kg (7.69 lbs)
Price
Starts at $3,999.99