Top 5 Reasons to BUY or NOT buy the Dell Inspiron 15 5579!
Not long ago we published our thorough review of the laptop Dell Inspiron 15 5579. This is a great 2-in-1 convertible suitable for business and multimedia tasks. So if you have your eye on this device, this article will certainly help you decide whether or not to opt for this particular model given its top 5 advantages and drawbacks.
You can check all available Dell Inspiron 15 5579 configurations here: http://laptopmedia.com/series/dell-inspiron-15-5579/

3 reasons to buy Dell Inspiron 15 5579
1. Full utilization of the new generation Intel CPUs
During our stress tests that assess the overall stability and effectiveness of the cooling system, we observed good CPU utilization of the new 8th Generation Kaby Lake Refresh Intel Core i7-8550U. The CPU was running between 3.4 and 3.7 GHz and then settled down to 2.7 – 2.8 GHz for more than a minute. After a while, the cores maintained frequencies between 2.1 and 2.3 GHz. These benchmark results show that the notebook utilizes the new generation of Intel processors quite well.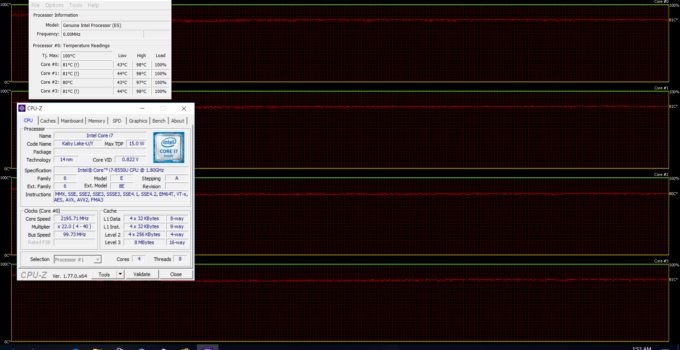 2. Display with high contrast and no PWM
Yet another essential merit of the Dell Inspiron 15 5579 is its display. The Full HD (1920×1080) touchscreen IPS panel offers quite high contrast ratio – 1550:1 (1410:1 after calibration). And that's not all – the notebook doesn't use PWM for regulating screen brightness across all levels so using it for long periods of time won't cause any eye strain even to users with sensitive eyes. You could also install our Health-Guard profile to further improve the color accuracy of the screen.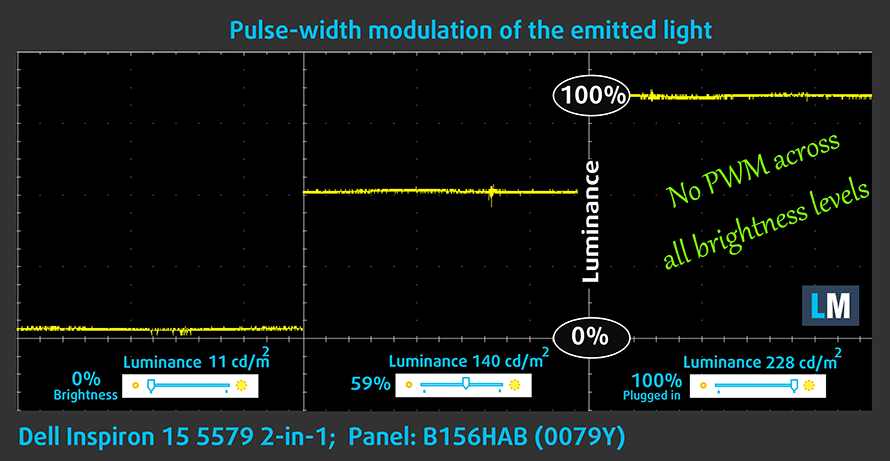 3. Decent battery life
Although having a quite small capacity of 42Wh, the battery unit manages to get the job done fairly well, providing longer that expected runtimes which is most probably due to the new 8th generation Intel Core i7-8550U CPU. For example, you can browse the web for 485 minutes (8 hours and 5 minutes) without having to charge your device.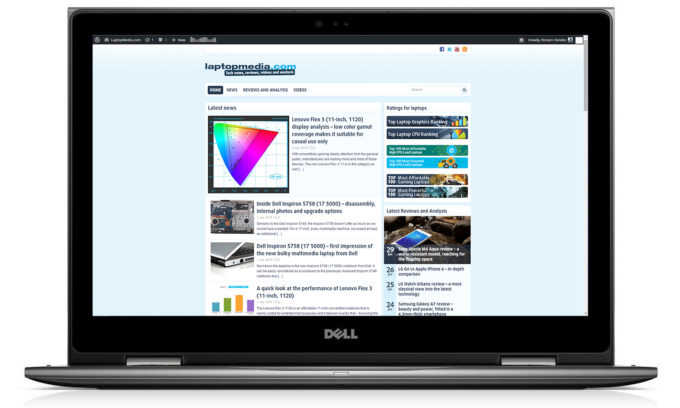 2 reasons NOT to buy Dell Inspiron 15 5579
1. Outdated design with sharp corners, hefty chassis, thick screen bezels
The Dell Inspiron 15 5579 doesn't stand out with its design which we find rather outdated. The chassis is made mainly of plastic is quite hefty tipping the scale at 2.05 kg and features thick screen bezels, while the lid is not resistant to torsion. In addition, the hinges are slightly over-tightened, and yet they appear to be rather bouncy when using the device in laptop mode. And when you switch to tablet mode, the sharp corners make it a bit difficult to hold the notebook.

2. No USB-C connector and no M.2 SSD slot
And lastly, we want to mention the lack of a USB-C connector (or at least another USB-A 3.0 port that can replace the latter) and M.2 SSD slot which is a major drawback as almost all contemporary laptops are equipped with such nowadays.

The best competitors
There are quite a few good alternatives to Dell Inspiron 15 5579 – for example, you can consider checking HP Spectre 15 x360, HP ENVY 15 x360 and Dell Inspiron 7573.
You can read the full Dell Inspiron 15 5579 review over HERE.

All Dell Inspiron 15 5579 configurations