Top 5 Reasons to BUY or NOT buy the MSI GE73VR 7RF Raider!
As you may have already read in its in-depth review, the MSI GE73VR 7RF Raider takes place in the hard-core gaming segment. So if this bad boy has managed to spark your interest, then keep reading to find out its top 5 pros and cons.
You can check all available MSI GE73VR 7RF Raider configurations here: http://laptopmedia.com/series/msi-ge73vr-raider/

4 reasons to buy MSI GE73VR 7RF Raider
1. Sleek design for a gaming device of this size
The 17.3-inch GE73VR 7RF comes with an aluminum design that has a fairly slim form factor for a machine that houses a GeForce GTX 1070 with 8GB of GDDR5 memory. The laptop features dimensions of 419 x 285 x 29 mm (16.50″ x 11.22″ x 1.14″) and weighs 2.8 kg which is quite impressive given its nature. What's more, the hinge design is pretty strong and sturdy holding the lid firmly in place. You also get really comfortable input devices – a full-size RGB keyboard with nice key travel, a clicky response and tactile feedback, as well as a nice touchpad beneath. Additionally, the bottom features a lot of vents that give room for air intake and also reveal a good part of the internals of the notebook.
2. Vivid screen with great responsiveness
Despite incorporating a TN panel, the more expensive option on the GE73VR 7RF offers one of the best displays for gaming out there. The contrast ratio is excellent – 1200:1 which is rarely on this type of panel and the display covers 97% of DCI-P3 in CIE1976 which ensures rich and saturated colors. And although the colors of this screen are not so optimal, installing our custom profiles results in dropping to the edge of the dE 2.0 mark.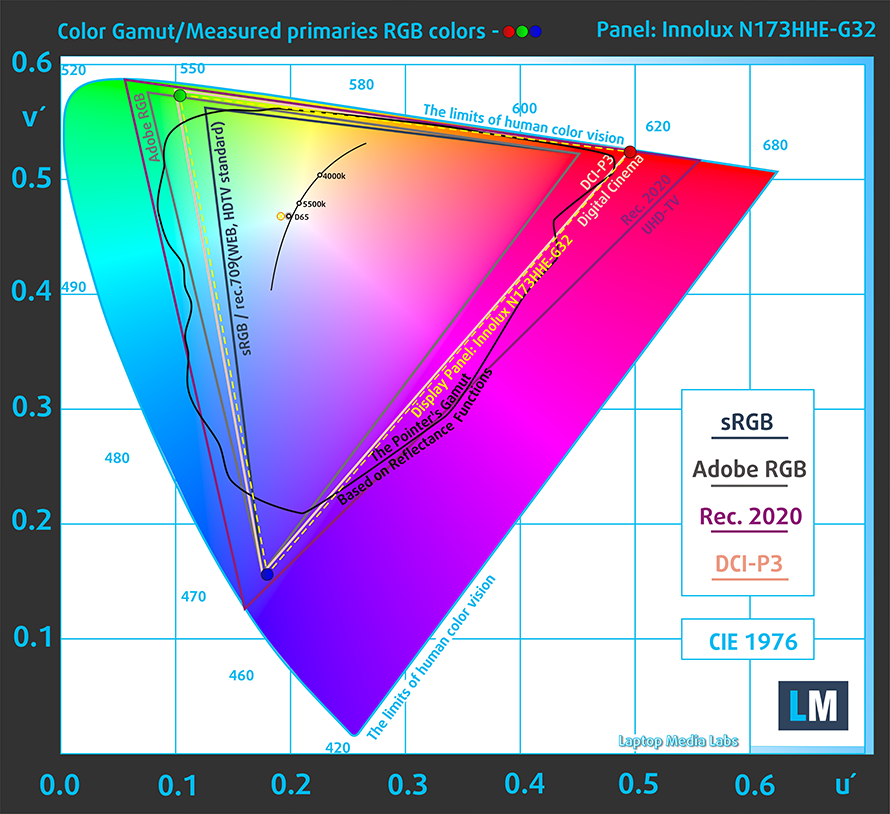 3. No aggressive PWM-adjustment
Despite being PWM-adjusted until 75 nits, the MSI GE73VR 7RF's screen flickers with a very high frequency (26kHz), therefore the negative impact is drastically reduced. We suggest taking advantage of our Health-Guard profile, which eliminates PWM and also reduces the negative blue light emissions.

4. Hardware is easy to upgrade
It is super easy to disassemble MSI GE73VR 7RF – all you have to do is remove the 12 Phillips head screws. The laptop comes with two PCIe NVMe M.2 slots and supports RAID 0 connection of two SSDs for ultra-fast transfer speeds. You have to remove a mysterious PCB to be able to access the slots.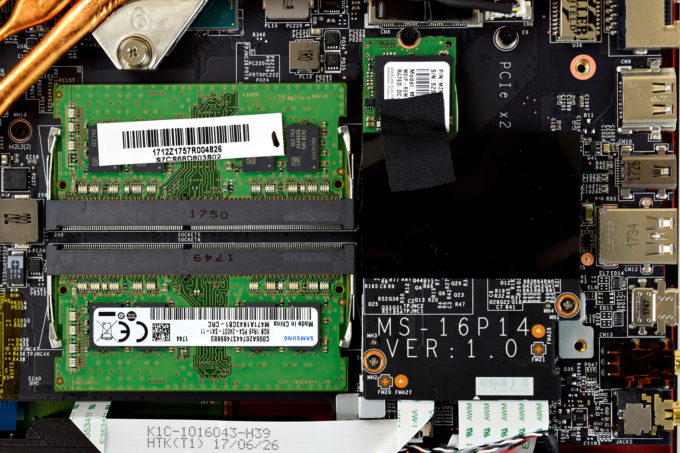 1 reason NOT to buy MSI GE73VR 7RF Raider
1. Unacceptable battery life
A major letdown is the battery life even for a gaming device. The 51Wh unit manages to keep the lights on for around 1 hour and 40 minutes of web surfing and video playback and just an hour of gaming, therefore it's not advisable to start a gaming session away from a charger.
In order to simulate real-life conditions, we used our own script for automatic web browsing through over 70 websites.
For every test like this, we use the same video in HD.
We use F1 2017's built-in benchmark on loop in order to simulate real-life gaming.
The best competitors
The MSI GE73VR 7RF Raider has some worthy rivals in the face of ASUS ROG GL503VS, Lenovo Legion Y920 and Acer Predator Triton 700.
Follow this link to read the in-depth review of the MSI GE73VR 7RF Raider.

MSI GE73VR 7RF Raider configurations