[Video Review] ASUS Zenbook Pro 16X OLED (UX7602) – Setting the standard
ASUS Zenbook Pro 16X OLED (UX7602) in-depth review
In the wide ocean of mobile computers, there are only a handful of products that really catch our eyes. That's regardless of whether it is because of their striking visuals, fantastic performance, or just outstanding innovation. Well, today's notebook - the Zenbook Pro 16X OLED (UX7602) may very well qualify for one or more of the aforementioned categories. It includes plenty of new technology, starting from the display, and going all the way to the cooling inside. Some features are more visible than others - you get a tilted keyboard, which has more than one benefit. Plus, there is a k[...]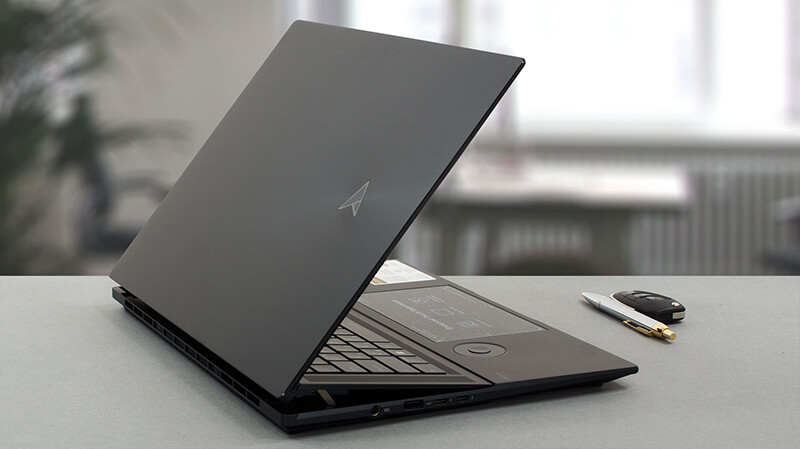 Pros
Comfortable keyboard
Super rigid structure
100% sRGB and DCI-P3 coverage + HDR support
High resolution and 16:10 aspect ratio + fast pixel response times
True and virtually infinite contrast ratio
ASUS Dial + touchpad with haptics
IR face recognition + fingerprint reader
Plethora of sensors
2x Thunderbolt 4 + SD card slot
Capable vapor chamber cooling
Samsung ATNA60YV02-0 (SDC415D)
HDD/SSD
up to 8000GB SSD
OS
Windows 11 Pro, Windows 11 Home
Battery
96Wh, 6-cell, 96Wh, 6-cell
Dimensions
355 x 251 x 16.9 - 17.8 mm (13.98" x 9.88" x 0.67")
1x USB Type-A
3.2 Gen 2 (10 Gbps)
2x USB Type-C
4.0, Thunderbolt 4, Power Delivery (PD), DisplayPort
Audio jack
3.5mm Combo Jack
Web camera
FHD IR with support for Windows Hello, privacy shutter
Microphone
Array Microphone with Cortana and Alexa voice rec.
Speakers
4-way Stereo Speakers, Smart Amp, harman/kardon
[Intro]
Here's a laptop that can do everything, and we mean …literally everything. The Zenbook Pro 16X OLED shines with innovation, performance, and good looks, all of which combine to create a product that's as close to perfect as it'll ever get.
[Design]
Let's start with the design. There's a CNC-milled aluminum chassis of aerospace quality with a MIL-STD-810H certification for durability. What it means, in reality, is that it's very durable and shows next to no flex from either the lid or the base. At 2.40 kg it is a bit hefty, but at the same time, it's impressively thin, with a profile of just 16.9 mm.
Opening the lid is easy with one hand. You can also see that not only does it open, but the keyboard also pops up, opening space below it that supplies air to the cooling setup. It's called the Active Aerodynamic System Ultra, or AAS for short. While it improves the cooling, it also helps with ergonomics, lifting the keyboard by 7° for more comfortable typing. The display rises up as well, to match the keyboard. Overall, it makes it so the panel sits higher, preventing you from slouching. In addition, the key travel is long and there's good feedback. Night owls will appreciate the per-key RGB backlight which comes with some cool effects in certain scenarios. The RGB doesn't stop there, though. Around the keyboard, there are three stripes that provide additional illumination. Through the ASUS software, you can make it so there's a red flash when your battery is low, as well as select different colors for when you receive an e-mail or any other notification. The ASUS logo on the back, lights up as well, in unison with the other lights.
There's also the NumberPad 2.0, which gives you access to a fully functioning NumPad when you need it. The pad doesn't have a conventional clicking mechanism, instead relying on a haptic motor to mimic a click. Next to it is the ASUS Dial, which doesn't move like the one on the ProArt notebooks, however, its touch sensitivity is superb and still spices up your workflow. It's well integrated into the Adobe Suite, so you can scroll through the timeline in Premiere, or swap brushes and switch colors in Photoshop.
On the top bezel, you have a Full HD webcam with an IR sensor for facial recognition, as well as several other sensors, including an ambient light sensor for automatic brightness adjustment and an RGB sensor for color temperature adjustment. Both the camera and the 4-mic setup have AI software for noise reduction, providing a clearer image and speech in video calls and meetings.
[Ports]
The port selection includes two Thunderbolt 4 ports, one USB Type-A 3.2 (Gen. 2) port, and the power plug on the left. On the other side, there's an HDMI 2.1 FRL port for external displays with up to 8K resolution, an audio jack, and an SD card reader.
[Display]
The internal screen isn't left behind though. OLED displays are the gold standard and ASUS knows it. The 4K UHD panel that we have here offers amazing visuals and crispy images thanks to the high resolution, while the 16:10 aspect ratio makes it just right for video editing, animation, and more. It maxes out at 383 nits in SDR content and 550 nits in HDR content, which is plenty bright even for outdoor use. We also have 100% DCI-P3 coverage, this is the current Digital Cinema standard.
Through the MyASUS software, the panel can switch between sRGB and DCI-P3 gamuts, while keeping colors accurate, securing a Pantone validation. We've got a dE value of 1.2 in the sRGB gamut and 1.3 in the DCI-P3 gamut.
There is some PWM below 94 nits, however, you can stop it with the Flicker-free dimming toggle inside the app. With it, the panel gets less accurate, however, it is still pretty good.
If you want to improve the way the panel works, you should totally check out our display profiles, which offer benefits regardless of whether you're doing Design, office work, or just want to keep your eyes healthy. We'll have them linked in the description below.
[Sound]
Visuals are only one side of the coin, as sound is important as well. The notebook secures a 6-speaker Harman/Kardon setup with Dolby Atmos, with two on the front, flanking the keyboard, and four on the bottom panel. It works really well, providing loud audio and showing no deviations at all, regardless of which frequencies we test.
[Battery]
With all the hardware that's here, you need a lot of juice to keep it running, so finding a 96Wh battery pack on the inside is appreciated. It lasts for 11 hours and 11 minutes of Web browsing, or 8 hours and 20 minutes of video playback.
[Performance]
These are great results when you factor in that the laptop is powered by a Core i9-12900H and a 95W RTX 3060. There are plenty of other options, including a Core i7-12700H, as well as two Raptor Lake CPUs, the Core i9-13900H and the i9-13905H. For graphics, the RTX 4070 and RTX 4080 will be taking the reins in the future, as the new Ada graphics can run at lower wattages, making even the 4080 suitable for a Creator laptop.
[Cooling]
ASUS uses serious cooling for the Zenbook, with a vapor chamber, one heat pipe, and two fans. It takes good care of the processor, with high clock speeds and wattages in both short and long loads. The 3060 graphics runs very well too, maximizing its 95W power limit.
Comfort is exceptional, with a hotspot of only 37°C, which doesn't even reach the keyboard, thanks to the AAS.
[Teardown and upgradeability]
To save space on the motherboard for cooling, there's up to 32GB of soldered LPDDR5 memory. For storage, you have one M.2 slot for the ultra-fast Gen 4 drives.
If you're curious about the disassembly process of the Zenbook Pro 16X OLED, we have a more detailed teardown video, which we'll link in the description below.
[Verdict]
With up to Core i9 and RTX 4080, an OLED HDR display, and six speakers, the Zenbook Pro 16X OLED is a complete studio workstation that almost feels too good to be true. It is setting the standard for other devices to achieve, giving you a boatload of power in a relatively compact chassis.
Its only drawback is the soldered memory but you can still order it with 32GBs of RAM, and that should be enough for the years to come. If you want to get a more complete picture of the Zenbook, you can check out our full review in the description below.