[Video Review] HP ZBook Fury 16 G9 – How can anyone top this?
HP ZBook Fury 16 G9 in-depth review
The ZBook Fury is the heavyweight champion of HP's workstation community. Previously, it was offered in a 15.6 and 17.3-inch variant. This makes sense, but now that 16-inch displays have flooded the market and become the new norm, the change could be seen around the corner. And a change we got in the face of the ZBook Fury 16 G9. It now concentrates the Fury into one device, which can reduce costs, and will definitely result in more appealing branding. In addition to that, there are some novelties for the Fury lineup. First of all - the processors. It is the first time that we welcome t[...]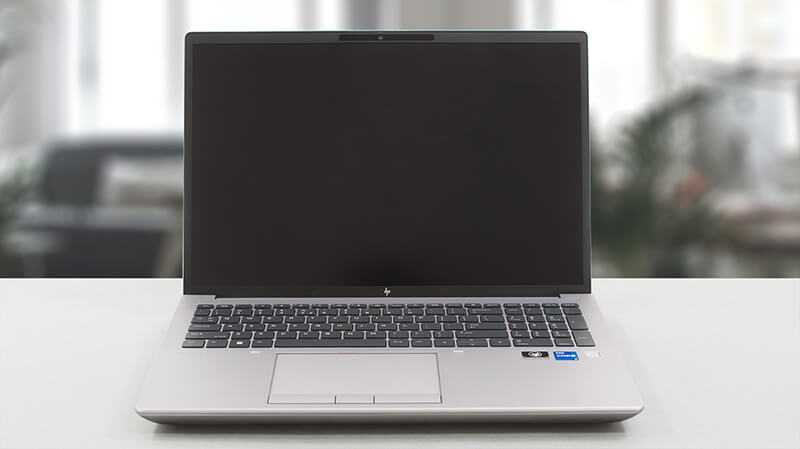 Pros
4x RAM SODIMM + 4x M.2 PCIe x4
Quiet under stress
Doesn't use aggressive PWM (AUOAB9B)
99% of sRGB coverage and great color accuracy with our profiles (AUOAB9B)
Exceptional keyboard and touchpad combo
Good battery life
2x Thunderbolt 4, SD card, and Smart Card readers
Optional IR face recognition and fingerprint reader
Cons
Low TGP graphics card
Quite pricy
HDD/SSD
up to 4000GB SSD
M.2 Slot
4x 2280 M.2 NVMe PCIe x4 Gen 4 See photo
OS
Windows 10 Pro, Windows 11 Pro, Windows 11 Home
Battery
95Wh, 8-cell, 95Wh, 8-cell
Dimensions
362.96 x 250.44 x 27.8 mm (14.29" x 9.86" x 1.09")
1x USB Type-A
3.2 Gen 1 (5 Gbps)
1x USB Type-A
3.2 Gen 1 (5 Gbps), Sleep and Charge
2x USB Type-C
4.0, Thunderbolt 4, Power Delivery (PD), DisplayPort, Sleep and Charge
Audio jack
3.5mm Combo Jack
Fingerprint reader
optional
Backlit keyboard
optional
Microphone
Dual Digital Array Microphones
Speakers
2x Stereo Speakers with discrete amps, Audio by Bang & Olufsen
If we can put 100% trust in one of HP's laptops, it would be the ZBook Fury. So far, it's never disappointed us, so we're quite excited to show you around its latest G9 version. As always, it's sporting the highest-powered Alder Lake-S series. It's not all computing power though, as the laptop presents a fruitful mix of new and old features. Let's explore them together.
[Intro]
The ZBook Fury doesn't need a design refresh, but it got one anyway, to match the new 16-inch display. The laptop doesn't hide its bulkiness, with a weight of 2.48 kg and a profile of 28.7 mm. Durability is excellent and we wouldn't expect anything else from the ZBook family. The body now has a curved front end and sides, while the back stays sharper. There's also a glossy Z-logo on the lid, which opens with one hand, exposing the base.
[Input devices]
The display has narrow bezels all around while housing an IR sensor and a 5MP camera. On the base, we find another scanner, this time for fingerprints, along with the keyboard and touchpad. The board is excellent, as the thick profile allows for long key travel, while the feedback is clicky. The spill resistance and RGB backlight are also fantastic features. The touchpad has three separate buttons, which is a rare sight in 2022, and it's intended for professional use. Paired with the glass surface you get some of the best combos of input devices.
[Ports]
Being a ZBook, it's got ports up the wazoo, with two Thunderbolt 4 ports, a Mini DisplayPort 1.4, an HDMI 2.1 port, and an SD card reader, all on the left. On the other side, there's a SmartCard reader, which is optional, an audio jack, two full-sized 5-gigabit USB ports, and a LAN port.
[Display]
Going back to the display, it has a Full HD+ resolution and a 16:10 aspect ratio. While there are higher-res panels available, we feel like this is still a good option, as it can get bright enough, reaching 429 nits. The contrast ratio is high as well at 1400:1. Ultimately, the panel is suitable for Creator work, thanks to the 99% sRGB coverage and excellent color accuracy with our Design and Gaming profile, which lowers the delta E value down to 1.4.
We'll link all our profiles in the description below.
[Battery]
The lower-res display will also help with battery life, but even if you go for the 4K option that's available, the 95Wh unit will treat you well. Paired with the Core i7-12800HX, a 55W base TDP CPU, it lasts for 12 hours and 47 minutes of Web browsing, or 9 hours and 45 minutes of video playback.
[Performance]
The Core i7-12800HX is blazingly quick. When comparing it against the Core i7-11850H from last year's ZBook Fury G8, we see a 56% increase in 3D Rendering performance with Cinebench R23 and a 0.7-second faster finish in the Photoshop benchmark.
For graphics, there's the whole RTX A-series of workstation GPUs to pick from. We settled for the RTX A2000, which does better than the same GPU inside the ZBook Fury G8, by 24 and 29% in 3DMark Fire Strike and Unigine Superposition, respectively. Still, the ThinkPad P15 Gen 2 and Precision 7560 from last year do score higher with the same RTX A2000.
[Cooling]
The large vapor chamber is exactly what the ZBook needs, being complimented by two heat sinks and two high-profile fans for extra airflow.
Despite that, HP has decided not to push the 55W chip to its limit, resulting in a top speed of 2.38GHz and a max temperature of 74°C.
The GPU runs cool as well, maintaining a consistent clock speed of 1653 MHz and a temperature of just 69°C.
Lastly, in terms of comfort, there's hardly any noise. The base is cool as well, with a max temp of 39°C.
[Teardown and upgradeability]
The laptop brings fantastic upgradeability, with a total of four SODIMM slots and four M.2 PCIe x4 slots. They are layered on top of one another to save space, so we'll leave our teardown video in the upper right corner to serve as a guide.
[Verdict]
The ZBook Fury G9 is a device that you can always trust to perform well and get the job done, regardless of what you need. It keeps up with modern trends, while still offering some tried and true features. On the other hand, some performance is lost, due to HP's conservative power management, however, we believe that can be adjusted with a software update. If HP does that, the ZBook will be unstoppable in its class, if it isn't already.