XIDU PhilBook Y13 – laptop with a beautiful and modern design, good specs, and an even better price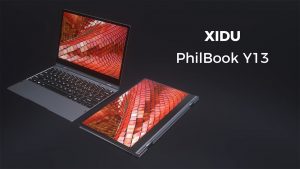 We have previously talked about XIDU in another article, which you can read by clicking here. We haven't tested their laptop yet but at least on paper their devices are a pretty sweet combination of specs and build quality. The PhilBook Y13 makes no exception to that rule.
It is light, compact, has decent specs, and a price to match. Below we will introduce you to the PhilBook Y13 and tell you why it might just be the choice for you in these times.
XIDU Store Official: XIDU Store (Use our LAPTOPMEDIA coupon code for 15% discount)
Amazon USA: XIDU Store

Design and build quality
XIDU prides itself on its build quality, having their laptops go through rigorous testing and quality control, which should mean that they have products with adequate price/quality. This PhilBook Y13 is built out of aluminum alloy, its weight is only 1.36kg, so carrying it everywhere should not be an issue. It has a white backlit keyboard so that even at night you are able to use it easily.

Specifications
As far as specs are concerned, the PhilBook Y13 has an Intel Core i5-5257U, which is a 4-core CPU with a boost clock of up to 3.10GHz. Yes, it is pretty outdated, being released in 2015, but it's still a quad-core processor and when paired with 8GB of RAM and a 128GB SSD, it becomes a great daily driver that can handle office work and a student's needs.


Display
The display on the PhilBook Y13 is an IPS and is 13.3 inches in diagonal. It comes in Full HD resolution and has a screen-to-body ratio of 85%, which while not being excellent is awesome to see at this price point.

Other features
Its abundance of ports and connectors makes the laptop been more versatile, meaning that you don't have to carry dongles and cable extensions and stuff your backpack with useless things. The laptop has a 360-degree hinge, allowing it to be used as a tablet or placing it on its edges so it looks like a tent.
You can check the current price and availability of the PhilBook Y13 here: Amazon.com
XIDU Store Official: XIDU Store (Use our LAPTOPMEDIA coupon code for 15% discount)