Gaming notebooks with a ULV chip? Meet the new Legion by Lenovo with Core i7-8550U!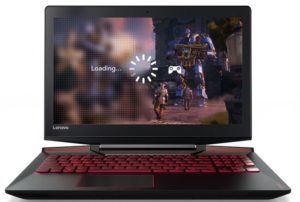 A few days back when we first released our test results performed on the new Intel Core i7-8550U part of the 8th generation, we shared our assumption that we might see gaming notebooks with ULV chips in the near future. We came to that conclusion after seeing that the Core i7-8550U is almost as powerful as the Core i5-7300HQ which is currently the go-to processor for budget gaming notebooks. Well, it seems that we were right all along. We are excited to share with you the news that Lenovo is going to release a version of the notorious Legion 720 only equipped with the Core i7-8550U.
You can check all configurations of the Legion 720 equipped with an 8th gen CPU in our catalog over here: http://laptopmedia.com/specs/?q=Legion&hPP=20&idx=laptops&p=0&dFR%5Bcpu%5D%5B0%5D=Intel%20Core%20i5-8250U&dFR%5Bcpu%5D%5B1%5D=Intel%20Core%20i7-8550U&is_v=1
Here is a quick run through the new Legion 720's specs. It will feature a 15.6-inch IPS screen with Full HD (1920 x 1080p) resolution. As we already mentioned it will feature the Core i7-8550U but there will also be a version with the Core i5-8520U. We guess that this is something similar to the Core i5-7300HQ and Core i7-7700HQ scheme we are used to. The processor will be backed by 8GB of 2400 MHz DDR4 RAM which can be expanded to up to 16GB.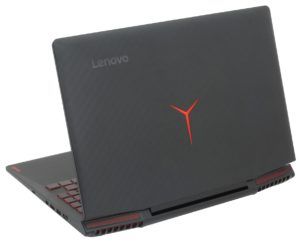 And as for the graphics card, there are only models equipped with an AMD card for now. You will have to choose between the AMD Radeon RX 550 (Laptop) or the Radeon RX 560M both of which have 4GB of GDDR5 memory. These low-end gaming GPUs should be somewhere around the NVIDIA GeForce GTX 1050 or GTX 1050 Ti in terms of performance.
There will be a variety of storage options. Of course, this includes a regular 2.5-inch SATA port and an M.2 slot that supports PCIe NVMe SSDs. The M.2 slot is designed for 2280 SSDs with M key but you can place smaller sizes like 2242 of course.
"Why is this so big news? you may ask. The secret lies in the CPU. This is by no means a high-end gaming system but we already mentioned that the Core i7-8550U is almost the same as the Core i5-7300HQ. With that being said it is clear that this configuration of the Legion Y720 will be a good gaming notebook. The special thing is the fact that the Core i7-8550U is a ULV chip and has three times lower TDP than the Core i5-7300HQ – 15W vs 45W. This means that we can expect much higher battery life without compromising performance. We are eager to see the end product.
Prices should start from around €900 or approximately $1080. Exact pricing and release date are unknown at the moment.
Meanwhile, you can check out all currently available Lenovo products over here: http://amzn.to/2xrVZug