Acer extends the period of their Reliability Promise warranty while the conditions remain the same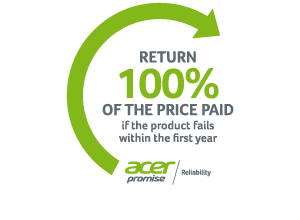 The Taiwanese manufacturer, Acer, is extending the period of one of their programs, that's been going for two years now. The so-called Reliability Promise warranty is continuing with full force and if you still don't know what's this, we suggest continue reading.
Acer is very confident in the quality of the products that it's offering an additional warranty called Reliability Promise. So if you bought a device from the manufacturer, which happens to be faulty in the first year of the purchase, Acer will send your device to one of their authorized repair centers and fix the product for free while also returning 100% of the price you've paid for it. In order for you to sign up for the extended support, you must follow a couple of simple steps.
First off, your device must be one of the following list. Then you have a 30 day period to register the product at this link. If you forget to do so, or you register the device after the initial 30 days have passed, you lose the right to a full refund. However, if everything is going smoothly (you've bought a device from the list and you've registered it on time) you can take full advantage of the aforementioned support. The period of the program has been extended to the 31st of December 2016 while the Reliability Promise itself covers a 1 year period since the day of the purchase. You'll also have a normal warranty along with this one, which will most likely be valid for 24 months.
You can browse through all of Acer's notebook at the following link: http://amzn.to/1onX9Bm