Acer Predator 15 and 17 with GTX 1070 and GTX 1060 are out now with a decent starting price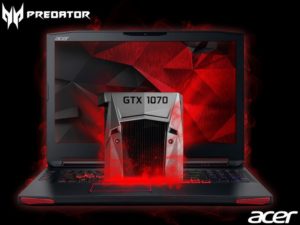 The Acer Predator 15 and 17 notebooks have won many fans over the last year mainly because they are affordable gaming solutions without sacrificing much of the features the other brands offer. Now the trend continues as the company finally released their own variants of high-end gaming laptops featuring the brand new GTX 1060 and 1070 GPUs.
The starting price of the Predator 15 (G9-593) and the 17 (G9-793) with GTX 1070 is $1 999 and it's on par with what ASUS is offering with its ROG G752VS laptop. In fact, the Predator series are currently being sold with two 256GB M.2 SSDs working in RAID 0 while the standard ASUS ROG G752VS configuration offers only 2.5-inch HDD for the same price. Other hardware like RAM, CPU, GPU, and screen are identical – Intel Core i7-6700HQ, GeForce GTX 1070, 16GB DDR4-2133 RAM and a Full HD IPS panel with G-Sync support. You can check out our review of the Predator 17 here while we are working on the full review of the 15-inch laptop.
Also, Acer has decided to offer more budget-friendly variants of the notebooks with the 6GB GDDR5 version of the GTX 1060 on board. The price falls down to $1 699 and includes practically the same hardware but features only one of the M.2 SSDs (no word if this is an M.2 SATA or an M.2 PCIe NVMe unit, though).