Acer Predator 17X's monstrous battery isn't enough and here's why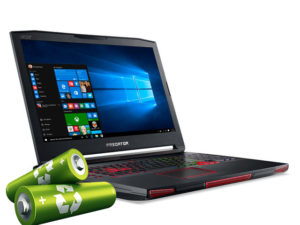 We just finished testing the battery performance of the Acer's Predator 17X and we found out that the huge 8-cell 88Wh capacity isn't enough to power up the notebook for longer periods of time. We've seen some other notebooks that feature such big battery – Alienware 17 R3, ASUS ROG G751 and G752 (the GTX 980M variant) and the standard version of the Predator 17 also did pretty well in our tests. But why does the Predator 17X doesn't perform just as good?
You can find the notebook when it comes out here: http://amzn.to/234Fldf
Well, we looked into it and found out that the motherboard holds only the CPU and one discrete GPU while the former doesn't have the iGPU. So this means that all graphic related tasks are taken care of by the GTX 980 GPU and as we all know, this fellow sucks on the juice like hell. The 165W chip draws too much power even for light tasks, which otherwise should be performed by the integrated GPU of the Core i7-6820HK – the Intel HD Graphics 530.
Anyway, the notebook scored merely 239 minutes (3 hours and 59 minutes) of web browsing and just 224 minutes (3 hours and 44 minutes) of video playback. These results contrast to the readings we got from the standard Predator 17, which scored 315 minutes and 273 minutes and this is with the UHD display. We should note, though, that the Predator 17X is with Full HD display and the original Predator 17 we've tested had a UHD panel and as you can see, even with higher resolution, the integrated GPU will save you lots of battery life.