Acer Spin 5 (SP513-54N) lasts more than 17 hours on a single charge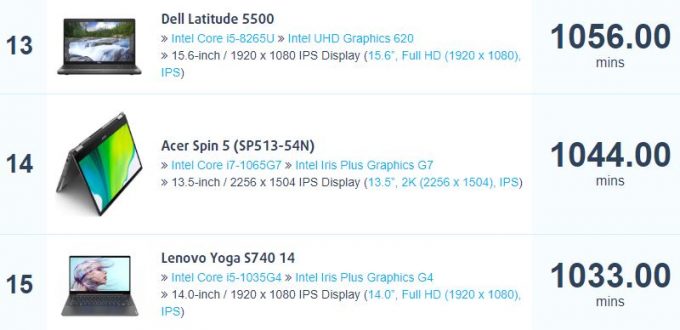 Once in a while, there is a laptop that makes it to our Top 50 Laptops with the best Battery chart. The newest addition is the Acer Spin 5 (SP513-54N), which comfortably jumped straight to the top 15 with its impressive performance away from the plug.
In general, this laptop comes equipped with the Ice Lake processors from Intel, which boast a great efficiency, thanks to their 10nm manufacturing process. Of course, you need a reasonable battery size in order to achieve a lot of autonomous time, so Acer has fitted the machine with a 55.9Wh unit.
As usual, we conduct the battery tests with Windows Better performance setting turned on, screen brightness adjusted to 120 nits, and all other programs turned off except for the one we are testing the notebook with. With this setup, we were able to extract 17 hours and 24 minutes of Web browsing and 13 hours and a half of video playback. This takes the Spin 5 (SP513-54N) to the 14th place, placing it just between the Dell Latitude 5500 and the Lenovo Yoga S740 14.
As a side note, keep in mind that playing games on this (or any) laptop will drain the battery significantly faster, and the overall battery life is highly subjective to the workload.