Acer Swift 3 (SF314-52G) is safe to use for long periods of time (PWM report)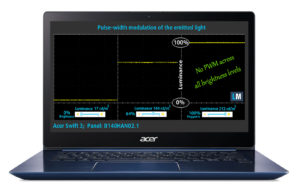 We are more than pleased to confirm that the Acer Swift 3 (SF314-52G) features a nice Full HD IPS display with very minor drawbacks. What's more, you will not come across PWM here.
According to our tests, the screen doesn't use PWM across all brightness levels which means you can use it for long periods of time without experiencing unnecessary eye strain. This will definitely come as good news especially for users that work in front of a computer all day.
However, if you want to fully protect your eyes, we suggest using our custom Health-Guard profile that reduces the negative blue light emissions while preserving high color accuracy as much as possible. We also recommend checking out our PWM ranking list if you want to find other PWM-free alternatives.
And here you can find the full review of the Acer Swift 3 (SF314-52G).


Acer Swift 3 (SF314-52G) configurations