Alienware 17 R3 has an incredible screen with 100% sRGB and 100% AdobeRGB coverage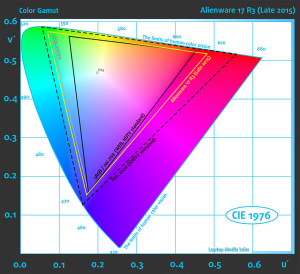 The AUO 2DK4K-B173ZAN (4K UltraHD IPS IGZO) display of Alienware 17 R3 (Late 2015) is meant for fun and gaming, but you can actually do a lot more with it. Despite its gaming nature, the Alien's display is perfect for professional color work. It covers 100% of the sRGB color gamut and 100% of AdobeRGB.
Coverage is nothing without accuracy, but Alienware 17 R3 will amaze you in that regard as well. The accuracy is incredible – the average DeltaE 2000 is 0.37 and we should remind you that displays with DeltaE values below 2.00 are suitable for photo editing, and values below 1.00 are indistinguishable to the naked eye. Even the maximum DeltaE from our 14 main samples is 0.92.
It turns out that the new Alienware 17 R3 won't just give you an awesome gaming experience at night, but can also be a great professional companion at work during the day.
Stay tuned for our in-depth review of the model!
You can check out the current price of Alienware 17 R3 (Late 2015) here: http://amzn.to/1JjnvZn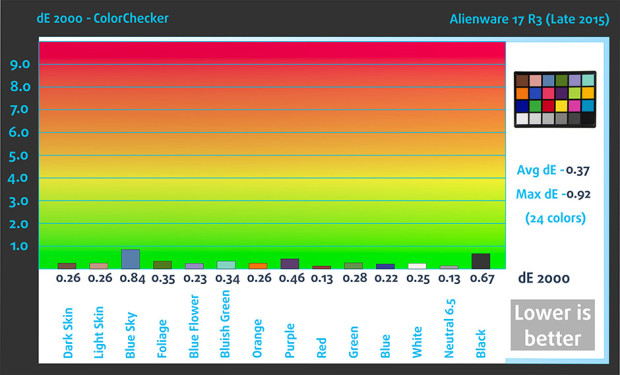 Check out our in-depth review:
http://laptopmedia.com/review/alienware-17-r3-late-2015-review-when-you-want-the-best-gaming-notebook-no-matter-what/