AMD is spending more and more on Research & Development – bright future ahead?
Advanced Micro Devices, or AMD for short, has been around the block for nearly half a century now. In short, they've been around long enough to know what's up and what they need to do to move forward.
You can check all available AMD products and computers featuring their CPUs and GPUs here: http://amzn.to/2pEj1dH
Despite the dire competition they're faced with, their lack of resources and fighting on many fronts at once we feel that their management made the correct decisions that ultimately lead to the recent release of their Ryzen brand of microprocessors. Definitely much better received than their previous attempt with Bulldozer.
Looking at the results from its very recent Ryzen release, AMD has managed to score an 18% increase in year-to-year revenue at $984 million, and although they still operate at a loss, things are looking much brighter now. The nearly 1 billion they have left in the bank is also possibly keeping the spirits up.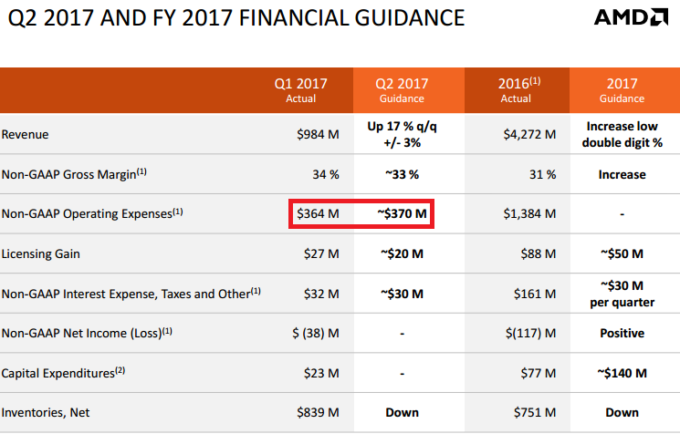 AMD was in a really bad spot around this time last year, but looking at them now they seem to have managed to reestablish themselves. We need to take into account that the are still yet to release the biggest earners. Their server products remain unreleased, no new APU's are out and we're yet to see Ryzen for mobile, this is excluding the upcoming AMD Vega launch as well. Noteworthy is Ryzen's availability – it only spans a few weeks in Q1'2017, and that is reflected in AMD's financial reports.
Of course, AMD is not looking to just sit idly by and let competition pass them up again. One-upping Intel on highly multi-threaded efficiency is no small feat. And in order to remain relevant, they've decided to bump up their research and development budget to better prepare for the future. The increase in capital expenditure of the company in the first quarter of 2017 increased by 7.5-9% depending on how you calculate it, and a further 1.6% increase is expected for the second quarter.
In order to make money, your new technology needs to be up to par with the latest standards and your competitors. And in order to bring that to pass, you have to spend money on developing it first. AMD understands that and we think that with their positive 2017 financial outlook, they're on the way to even further profits. It's a bit early to say, but it's not like they were slow to snag 2% market share from Intel, so who knows what other surprises they have in store?
You can check all available AMD products and computers featuring their CPUs and GPUs here: http://amzn.to/2pEj1dH