AMD with new software updates – Crimson ReLive Edition fixes bugs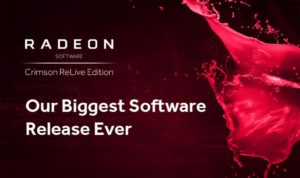 It was yesterday that the California company AMD released a new software update called Radeon Software Crimson ReLive Edition 16.12.2 driver which resolves many issues from the previous software package.
You may wish to browse through all currently available AMD products here: http://amzn.to/2iffYUy
The driver package in question significantly reduces the amount of bugs in the ReLive software app for gameplay capture – you will encounter fewer problems with mouse lags, undesired slow-mo audio recording and more. Additionally, problems related to opening Radeon Settings have been resolved as well as some other issues with borderless fullscreen view on FreeSync displays.
If you want to download the new software pack,you can either let Radeon Settings perform and automatic update or you can visit AMD's official website.