Another addition to the GAMMIX lineup – aggressive GAMMIX D10 DDR4 RAM module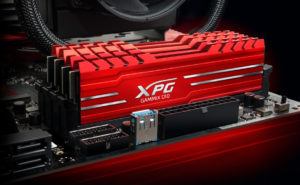 Earlier today we share with you a short article about a new set of ADATA products – the so-called XPG GAMMIX lineup. What we have in mind is the GAMMIX D10 – a stylish DDR4 memory module targeted at gaming enthusiasts. Just like the GAMMIX S10 SSD it will be available in mid-August and will sell for USD 85/EUR 74.5 for an 8GB stick.
If you are interested, you can check all currently available ADATA RAM modules here: http://amzn.to/2vbVvqc
Starting from the design, this bad boy features a custom XPG open top heatshield with sort of wings that look really aggressive. It must be mentioned that the profile of these modules is relatively low which allows you to use it in more compact configurations. As far as frequencies go, the D10 has options varying between 2400MHz and 3000MHz. Additionally, the D10 PCBs make use of 10 layers so as to ensure better signal and the available heatshield is there not only for nice looks but also to really help with heat dispersion and stability when gaming.
One must not overlook the fact that these modules are compatible with Intel XMP 2.0. In other words, they give you plenty of room for overclocking. Last but not least, these products are shipped with a lifetime warranty which only comes to support their quality.