ASUS FX502 is even cheaper now – GTX 1060 laptop for $837!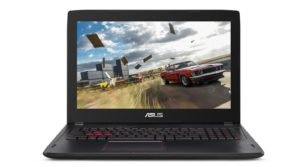 Do you remember the ASUS FX502? An affordable gaming notebook equipped with a GTX 1060 graphics card that you can purchase for the price of a GTX 1050 Ti notebook. More than a month ago the price of the FX502 dropped to $899 but now we want to announce that you can get it even cheaper.
ASUS currently sells the FX502 on Amazon for $866.99 but other sellers offer it as low as $837.41. It's not a big discount but $50 is $50 and that makes the notebook even more attractive. The configuration is equipped with a sixth generation Intel Intel i5-6300HQ but that should not be an issue. The overall performance improvement between the sixth and seventh generation is not too big to notice it during casual gaming. 
The GTX 1060 found inside the FX502 is the 3 GB GDDR5 version but our comparisons have shown that it performs just as its 6 GB version. The important thing is that the GTX 1060 is a big improvement over the GTX 1050 Ti which is the GPU that we usually see in this price range.
Storage on this particular configuration is a 1 TB 7200 rpm hard drive. We are happy to see that there are 16 GB of DDR4 RAM available. So if you are looking for a capable notebook but you are on a tight budget then the ASUS FX502 is a great deal for you.
You can check it out over here: http://amzn.to/2h2spqR