ASUS FX502VM with a Geforce GTX 1060 for $899.99 is an incredible deal you should not miss out on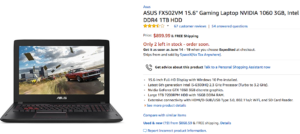 Great deals emerge on Amazon every day – you just need a sharp eye to spot them. We guess you have better things to do than browsing online retailers all day long and that's why we will share the deal of the day with you.
If you happen to be looking for a new gaming notebook or just a solid all-rounder but you are on a budget then it is your lucky day. You can purchase the ASUS FX502VM for just $899.99. We just compared it to the Acer Aspire V 15 Nitro Black Edition which is another great option. You can also read our detailed review over here.
For just 900 bucks you are getting a four core/four thread Intel Core i5-6300HQ processor with a base clock of 2.3 GHz and Boost clock of 3.2 GHz.  You also get a NVIDIA GeForce GTX 1060 (3 GB) graphics card so you can play all the latest titles. All of this is paired with 16 GB of fast DDR4 RAM.
In terms of storage, this particular configuration is equipped with a 1 TB HDD but you also have an empty M.2 slot which is NVMe-enabled for future upgrade. It is listed that the notebook also comes with pre-installed Windows 10 – what a bargain?
The ASUS FX502VM is by no means the best in its class but for just $899.99 it's just a bang for the buck. At that price, it easily beats other competitors. You better hurry and order yours because stocks are short.
You can follow this link to go to the product page. Meanwhile, you can check all other ASUS notebooks over here: http://amzn.to/2rigaLN