ASUS N752VX is more than a worthy successor to the multimedia lineup – packs high-quality IPS panel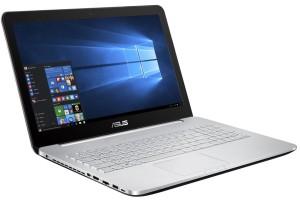 With every test we run on the ASUS N752VX, the more it shapes into one of the best 17-inch multimedia stations on the market, especially if you are looking for a big high-quality screen. The price is a bit high when you consider the fact that most 15-inch notebooks offer more powerful GPU, but that's probably the trade-off with the N752 – the excellently built chassis packs nearly perfect display for the asking price… and it's a multimedia laptop, not a gaming one, after all.
Here's where you can find more information on the notebook's price and availability: http://amzn.to/25FXSiE
First of all, the screen scored 334 cd/m2 maximum brightness in the center of the screen while the average luminance on the surface was 329 cd/m2. That's pretty good result and combined with the matte finish, the screen will be sufficient for normal work in brightly lit environments. Moreover, the color temperature is nearly identical to the optimal one (6240K average vs optimal 6500K) and there's little color deviation with no backlight leakage suggesting of high-quality IPS panel.

Also, the panel boasts 90% sRGB color gamut coverage, which will be more than enough for excellent multimedia and gaming experience, but will fall short for photo or video editing. We also have excellent contrast ratio (1050:1) and no PWM across all brightness levels. We are really impressed by the picture quality the N752VX and the huge upgrade it provides, coming from its N751 predecessor in the same aspect.