ASUS released the ROG Zephyrus (GX501VI) – you can get it now with three awesome gifts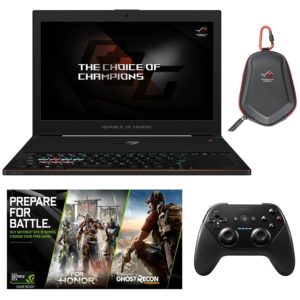 It's June the 27th at last and the highly anticipated ultra-slim gaming notebook ASUS ROG Zephyrus (GX501VI) is finally released. A few days back, we got you familiar with its specs and price which is $2,699.00. Now you can purchase it and get three awesome gifts.
A retailer is selling it for the exact same price but offers an "Exclusive Gaming Bundle" with it. It features three items. First of all, a game code for Tom Clancy's Ghost Recon: Wildlands or For Honor which is worth $60 each. The second item is an ASUS Wireless Gaming Controller which would be great for games like Mortal Kombat or FIFA. And lastly, you get a red ASUS ROG Ranger Compact Case to carry an external mouse wherever you are. These three items add an additional $125 value to the Zephyrus making it a great deal.
If you haven't heard already, ROG Zephyrus is the first and thinnest to date Max-Q design notebook. It is only 17.9 mm thick and features a GeForce GTX 1080 8GB. If the innovative cooling system that ASUS claims to have implemented in the device works properly this could become a big thing for the future of slim yet powerful gaming laptops.
You can check the ROG Zephyrus (GX501VI) with the Exclusive Gaming Bundle over here: http://amzn.to/2tZA6jn