ASUS ROG Zephyrus GX501VI – detailed specs and price of this ultra-thin Max-Q monster

Not long ago NVIDIA unveiled their new technology – Max-Q design. This new technology is supposed to shrink down the dimensions of the bulky gaming notebooks without compromising performance. You can read more about how it works in this article.
You can check the ASUS ROG Zephyrus GX501VI over here: http://amzn.to/2t5WBGs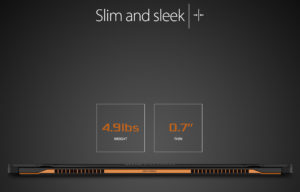 Moving on to the point of today's article, the ASUS ROG Zephyrus was probably the first Max-Q notebook unveiled. It is to date the best representation of Max-Q's ideology. It is light, slim, and ultra powerful and it will soon hit the market so let's take a look at its detailed specs and the price that it will set you back.
Now, where do we start? Hardware maybe? It packs a seventh generation Intel Core i7-7700HQ (4 cores, 8 threads, 2.8-3.8 GHz, 6MB cache) and NVIDIA's GeForce GTX 1080 with 8GB of GDDR5X memory. Nothing that we haven't seen in a high-end gaming system before but here is the catch – all of this is housed inside a 17.9mm (0.7 inches) (lid closed) thick chassis that weighs only 2.2 kg (4.9 lbs). Now, this is something that's never seen before!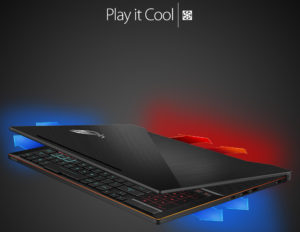 A big concern that comes hand-to-hand with slim notebooks that feature powerful hardware is the cooling problems that may occur. Especially, in this case, this is the main worry point. ASUS claims that the Active Aerodynamic System (AAS) that the Zephyrus is armed with combines intelligent design with innovative technologies to prevent any throttling whatsoever. AAS works by opening a small gap at the bottom of the device which is said to increase the airflow by up to 40%. This so-called AeroAccelerator technology should decrease temperatures by 20% compared to conventional cooling methods. If everything works the way it is supposed to then this will be a big break for Max-Q design and the beginning of an era of thin yet powerful gaming devices.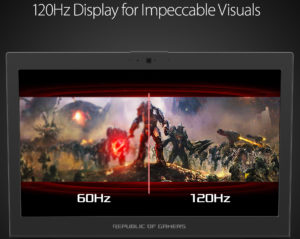 Back to the specs, you get a beautiful 15.6-inch IPS screen with wide viewing angles and 100% sRGB coverage. The resolution if Full HD (1920 x1080p) which might seem just the regular to some but the refresh rate of the screen is 120Hz. This allows you to enjoy true 120 frames per second when gaming. Combined with NVIDIA G-SYNC technology everything will look as smooth as butter. Of course, the GTX 1080 graphics card inside enables VR which would be quite immersive on a 120Hz display.
The listed configuration comes with 16GB of fast 2400MHz DDR4 RAM and 512GB PCIe NVMe SSD for storage. Although the ROG Zephyrus is so thin, it comes with a full arsenal of connectivity options. You get four USB 3.1 ports along with a single USB Type-C which supports Thunderbolt 3. You still get a full-size HDMI 2.0 port, a 3.5 mm jack, DC in and Kensington lock for security.
Other features like the keyboard would make your gaming experience even better. It is positioned at the front of the chassis to ensure better cooling for the internal components. It has 1.4 mm key travel and familiar layout to a desktop keyboard. The Aura RGB lighting lets you customize colors the way you like. You can even single out the QWER or WASD keys to suit your game style the best.
The configuration that we just took a look at will cost you $2,699.00 – a solid price that is but the features you get are also solid. You can pre-order it today but it will release very soon on June the 27th. We are eager to get our hands on the ROG Zephyrus and test it for ourselves. Let's hope that it is a success.
You can check the ASUS ROG Zephyrus GX501VI over here: http://amzn.to/2t5WBGs