ASUS X555 / K555 offers above average battery life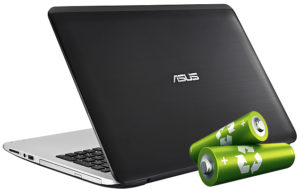 We just finished testing the budget-friendly ASUS X555, or K555 in the European market, and the results from our battery tests seem promising. The laptop we've tested features a ULV (ultra-low voltage) processor from the Broadwell generation and an HD (1366×768) TN panel, both of which aren't demanding and don't drain the battery as much. However, newer models with Skylake CPUs will probably outperform the testing unit we are using. Even so, we are pretty satisfied with the battery runtimes.
Here's where you can find the notebook's price and configurations: http://amzn.to/1XV34Mo
The 37Wh battery was able to keep the system running for 351 minutes (5 hours and 51 minutes) when browsing and 375 minutes (6 hours and 15 minutes) of video playback. Both results are a tad above the average for this price range but as we expected, the gaming tests took a toll on the battery with only 115 minutes (1 hour and 55 minutes) of play time. However, it's quite unlikely that you begin your gaming session away from the charger.
Stay tuned for our full review coming tomorrow.