be quiet! releases Shadow Rock TF 2 – new CPU cooler with high efficiency, clever design and affordable price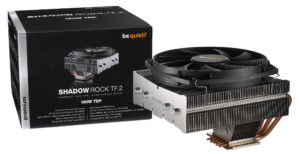 It was only yesterday that the renowned German manufacturer of PC components known by the name of be quiet! revealed an intriguing new product – the Shadow Rock TF 2. This CPU cooler is an ideal solution for systems which do not have too much space. Thanks to the way it's been designed it will cool not only your processor but also other components in proximity.
If you happen to show interest, you may also wish to check all currently available be quiet! products here: http://amzn.to/2rq4yGJ
Okay, so why is it good for compact configurations that require some cooling? As far as its construction is concerned, it uses five 6mm high-quality copper heat pipes with aluminum caps for the purpose of neater looks. Additionally, the improved efficiency is due to redesigned fins – there is a direct connection between them and the base plate which ensures faster heat dissipation. Also, the Shadow Rock TF 2 is similar to its predecessor in terms of TDP – rated at 160 W. What's more, the 135mm be quiet! fan used is optimized to further reduce noise levels.
As far as height is concerned, this device including the fan is only 112 mm in height, which allows its use in more compact systems. Also noteworthy is the fact that its fins are diagonally arranged and thus cool the components surrounding your processor socket. Last but not least, the Shadow Rock TF 2 comes with mounting kits for all Intel- and AMD-based sockets.
The device is not yet out but it will sell for 60$ – quite decent, isn't it?
You can find more information about it here: http://www.bequiet.com/en/cpucooler/774