Dell Inspiron 13 7359 goes beyond our expectations when it comes to battery life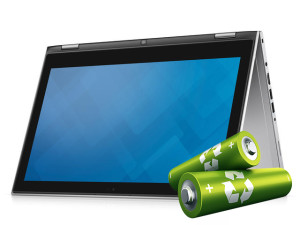 The new convertible from Dell has it all – good looks, solid build, decent hardware and an IPS touch panel to go along with the 360-degree rotating hinge. And it doesn't cost that much too. You can find the model for around $700-800 with Core i5 and Core i3 CPUs.
But you haven't heard the best part, though. The laptop may be capable of getting you through a full workday depending on your usage, of course. Our tests indicate around 473 minutes of web browsing and 390 minutes of video playback. But these results are taken from a test in controlled conditions – Wi-Fi on, screen brightness set to 120 cd/m2 and power saver turned on – so take this into consideration. Still, compared to other high-end 2-in-1 devices, Dell's solution with 43Wh battery is rocking the house.
You can check the current price of Dell Inspiron 13 7359 here: http://amzn.to/1UKqH6G