Dell Inspiron 5559's screen is flickering from 0 to 99%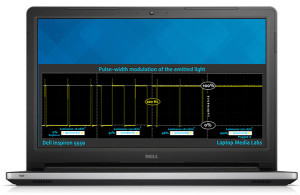 Another notebook down the pipeline is Dell's Inspiron 5559 – a mid-range multimedia notebook with some decent specs. However, the screen appears to be flickering from 0 to 99% according to our oscilloscope. Also, the emitted frequency is pretty low (200 Hz) and can be considered as "aggressive". So we suggest you use the notebook either at 100% screen brightness in order to steer away from the PWM or use an external monitor if you are planning to stare at the screen for longer periods of time.
You can find the notebook and all of its available configurations here: http://amzn.to/1PI2OLJ
If all of the above seems gibberish to you, we suggest reading our thorough explanation of the so-called PWM (pulse-width modulation) and after that, you can take a look at our PWM ranking table as well.