Even with just one small fan, Toshiba Satellite C55 remains cool after continuous 100% CPU+GPU load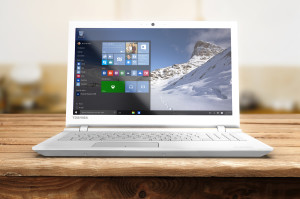 We keep working on the detailed review of Toshiba Satellite C55 and while you're waiting for it, we can share a quick positive glimpse on its cooling system. Given the fact that C55 doesn't have a powerful CPU or GPU (it works with Intel Core i3-4005U and HD Graphics 4400), we didn't expect temperature troubles. Moreover, the C55 has one little fan that does the job almost without emitting any noise.
We tested the laptop at 100% CPU + 100% GPU load and measured the internal and external temperatures. You'll find detailed results in our upcoming review, but we can praise the model for staying cool on its surface after more than an hour of torture tests.
You can check the current price of Satellite C55 here: http://amzn.to/1KcybrK